'Elections litmus test for membership to NATO'
'There are very real concerns about the level playing field'
'Lot of concerns about Chamber of Control's role in party financing'
'Georgian officials are beginning to understand, that they are being watched'
Support to Georgia's territorial integrity 'remains steadfast'
Obama-Saakashvili talks gave 'important impetus' to military cooperation
Trade and economic ties are taken to 'a new level'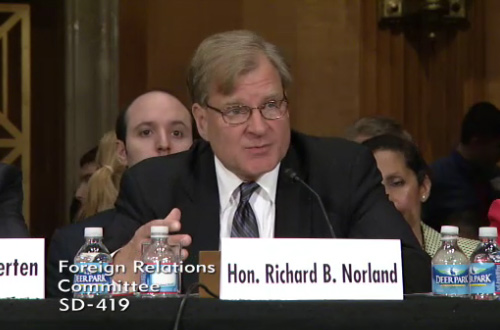 U.S. Ambassador-designate to Georgia, Richard Norland, speaks during a nomination hearing at the Senate Foreign Relations Committee on March 21.
U.S. Ambassador-designate to Georgia, Richard Norland, outlined priority areas of U.S. cooperation with its "reliable partner", Georgia, during a nomination hearing in the Senate Foreign Relations Committee on March 21, saying that upcoming elections would be "a very important litmus test" for Georgia's NATO aspiration.
He started his prepared remarks at the hearing by noting that this year marks 20th anniversary of the U.S.-Georgian diplomatic relations and cited President Obama that Georgia had made an extraordinary progress in transforming itself from "fragile state" to one that is succeeding in significantly reducing petty corruption, modernizing state institutions and services and building a sovereign and democratic country.
He said that Georgia had demonstrated itself to be "a reliable partner" on issues like Afghanistan, non-proliferation and trade.
"Of paramount importance, I want to emphasize the United States' commitment to Georgia's territorial integrity and sovereignty remains steadfast," he said. "The United States will continue efforts to persuade Russia to fulfill its 2008 ceasefire obligations, while also working on essential task of improving broader Georgia-Russian relations."
"We continue to object the presence of the Russian troops in the occupied territories and we strongly support Georgia's sovereignty and territorial integrity; these are matters of principle," he said, adding that the U.S. will continue to be actively engaged in the Geneva talks.
Democracy and Elections
"Equally significant will be the strengthening of democratic institutions and processes in Georgia, especially in light of parliamentary elections this fall and presidential elections 2013," the U.S. Ambassador-designate said.
"The elections provide Georgia with an extraordinary opportunity to realize its first peaceful and fully democratic transfer of power. Free and fair elections will bring Georgia closer to Euro-Atlantic standards and integration."
"To get there the Georgian government will have to build on reforms made to date to foster greater political competition, labor rights, judicial independence and media access."
"I strongly believe that advancing our key interests in Georgia's long term security and stability is directly linked to government's furthering democratic reforms," he said in the prepared testimony.
The issue of democracy and upcoming elections was again raised during the hearing later when Democrat Senator Ben Cardin asked the Ambassador-designate about the opposition's allegations in Georgia that "they are denied opportunity to fairly compete" in the upcoming elections.
"Georgia has made progress towards becoming a full democratic state," Norland responded. "But as you indicated there are very real concerns about, what you may call, the level playing field."
"There are reports of harassment of opposition candidates that trouble us deeply," Norland said.
He said that the role of the Georgian state audit agency "Chamber of Control in party financing is drawing a lot of concern in Georgia and in the international community."
"Our mission [in Tbilisi] is raising these concerns publicly and privately with the Georgian government and if confirmed [as ambassador to Georgia] it will be my role to continue monitor very carefully Georgia's observance of principles that we hold dear. This would be a central priority for my mission. The Unites States already spends millions of dollars in assistance to promote civil society, rule of law and democracy in Georgia and we need to be careful stewards to make sure that we are getting results we are looking for," Norland said.
He said that relationship between Georgia's democratic reforms and its Euro-Atlantic integration was "pivotal".
"Given Georgia's interests and Georgia's aspirations to NATO membership and our support for those aspirations, how these elections are conducted is a very important litmus test and we'll be watching carefully to make sure that the way these elections unfold are in keeping in NATO standards."

"The Europe and the United States are closely watching the conduct of these elections to determine whether they meet the criteria that are expected of a NATO-member country," Norland said.
"There are real concerns about the way certain aspects of these elections are being conducted – the harassment of opposition. Our goal is to see a level playing field," he said. "It's not that we are focused on any particular individual. What we are seeking to do is to protect the integrity and support the integrity of the process."
"I think Georgian officials are beginning to understand, that in fact they are being watched, that this is being monitored closely and that it is a litmus test for their membership to NATO. We hope that they will take the right steps," Norland said.
NATO Integration
He reiterated the U.S. support to Georgia's NATO aspirations and said that the Alliance's upcoming summit in Chicago would provide an opportunity "to highlight Georgia's progress towards meeting membership criteria, as well as its significant partnership contributions."
He stressed on importance of Georgia's contribution to the Afghan operations, where "brave" Georgian soldiers operate without caveats in the Helmand province, noting that Georgia would become the largest non-NATO contributor to ISAF after it deploys an additional battalion in Afghanistan this fall.
Responding to Republican Senator Richard Lugar's question about Georgia's NATO integration, the Ambassador-designate said that the Alliance had already declared that Georgia would become a NATO member.
"So the issue really has to do [with] how and when," Norland said. "There is no single path to NATO membership. As it stands now, I understand, the Annual National Program and the NATO-Georgia [Commission] are the primary mechanisms to which Georgia and the Allies are pursuing the issue of Georgia's membership."
He also said that "a lot of emphasis" was also placed on steps Georgia was already taking, including its contribution to the ISAF mission, defense reforms, as well as steps towards democratic and economic reforms.
"These are all part of the package that go[es] into meeting the criteria for NATO membership," Norland said.
He said that "serious efforts" were being undertaken by the U.S. administration to use upcoming NATO summit in Chicago "to signal acknowledgment for Georgia's progress in these areas and to work with the Allies to develop a consensus on the next steps forward."

Defense Cooperation
On defense cooperation, the U.S. Ambassador-designate said that talks between President Obama and President Saakashvili in the White House in January gave "important impetus" to military relationships and said that the U.S. had approved sale of M4 Carbines assault rifles to Georgia.
He said that during a meeting in Washington the U.S. and Georgian Presidents "agreed to enhance these programs, to advance Georgian military modernization reform and self-defense capabilities."
"Sustaining robust bilateral security and defense cooperation with Georgia will also remain a high priority if I am confirmed," he said.
"Our plans for security assistance and military engagement with Georgia are to support Georgia's defense reforms, to train and equip Georgian troops for participation in the ISAF mission and to advance Georgia's NATO interoperability."

Economy
Norland said that after meeting with the Georgian leader in January, President Obama took economic and trade relations with Georgia to "a new level, when he announced a launch of high level dialogue to strengthen trade ties, including the possibility of free trade agreement."
Richard Norland, who is a former U.S. ambassador to Uzbekistan, was nominated by President Obama in February to replace John Bass, who has been serving in Tbilisi since late 2009.
Norland, a 32-year foreign service veteran, briefly served in Georgia in early 1990s in a capacity of the U.S. representative and acting head of the OSCE Mission to Georgia, working on South Ossetia and Abkhazia conflict issues.
Before serving as an ambassador in Uzbekistan in 2007-2010, Norland, who is now international affairs advisor and deputy commandant at the National War College, Washington, D.C., was deputy chief of mission at the U.S. embassy in Kabul for two years.
According to the U.S. Department of State, Ambassador Norland has spent much of his career on U.S. relations with Russia and other former Soviet states. He was a political officer at the U.S. Embassy in Moscow in late 1980s.
He was director for European affairs at the National Security Council for two years during the Clinton and Bush administrations and served as deputy chief of mission in Latvia in 2003-2005.
Ambassador Norland, who speaks Russian, French, Norwegian and Latvian, was a political counselor at the U.S. Embassy in Dublin in 1995-1998.