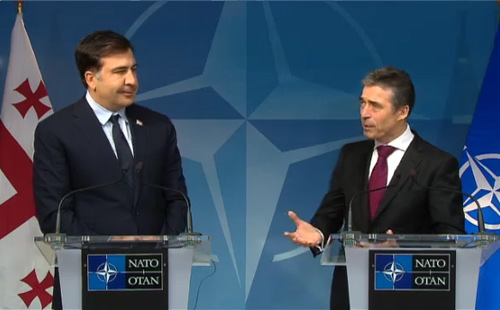 President Saakashvili and NATO Secretary General, Anders Fogh Rasmussen, at a joint news conference, April 3.
NATO's "dialogue" with its "special partner" Georgia is "deep and intensive", NATO Secretary General Anders Fogh Rasmussen said on April 3 in Brussels as he met with President Saakashvili, who said Georgia now had "much better working cooperation with NATO than ever before."
After the meeting with Rasmussen, President Saakashvili addressed a session of the NATO-Georgia Commission, which is a main mechanism through which Georgia's cooperation with the Alliance is supervised.
Chicago Summit and Georgia
Speaking at a joint news conference with President Saakashvili, Rasmussen said that the Alliance's "special partnership" with Georgia would be reflected at the upcoming NATO summit in Chicago in late May in three ways.
"Firstly, reflect that Georgia is one of the major contributors to our operation in Afghanistan. Secondly, reflect that Georgia in general is a major contributor to the trans-Atlantic cooperation within the special NATO-Georgia Commission and thirdly that Georgia is also considered an aspirant country, a country that aspires to become a future member of NATO," Rasmussen said, adding that the Allies had not yet made the final decision as "to how we will organize partnership events in Chicago."
"All in all I hope that could be reflected in a strong declaration, statement from the Summit," Rasmussen said.
Georgia has been referred to as "aspirant" country for the first time in a final statement of NATO foreign ministerial meeting in Brussels on December 7, 2011, which triggered Russia's protest with its Foreign Minister Sergey Lavrov saying that he had "openly warned" the Alliance that such statements might serve as an encouragement for President Saakashvili to undertake "an adventure similar to the one of August, 2008."
President Saakashvili said that Georgia was looking forward to the Chicago Summit.
"I think that framework we are now getting for Chicago [Summit] looks more and more hopeful, because [it] really underlines that Georgia has been moving forward; that's very important to underline," he said.
'Long Road' for 'A Model Partner'
Calling Georgia "a model partner", Rasmussen said that NATO was committed to continue supporting Georgia's membership aspirations and "to strengthen the capacity of the Georgian institutions to pursue your Euro-Atlantic agenda and goals."
"Georgia has become a model of commitment, cooperation and connectivity with the Alliance and we encourage you to continue that way," he said.
"This is a long road and we are taking it one step at a time," Rasmussen said.
"But you have already made a good progress and I trust you will continue with your progress and your reforms as you approach the parliamentary elections this year. Those elections will be an important test for Georgia's democracy and a chance to show how far you have come. I know that Allies will follow them closely," he said.
The NATO Secretary General also said that there had been "a clear progress when it comes to democratic reforms in Georgia."

"All in all NATO has given a very positive assessment of the reform efforts in Georgia," he added.
Picking up on Rasmussen's "model" remarks, Saakashvili told the Secretary General: "I noticed… twice in your short statement today you mentioned Georgia as a model, as a role model country."
"I visit[ed] President Obama in January and President Obama called Georgia a model for the whole region for reforms and changes and democracy building and I think the fact that you are also talking about this model of Georgia is of special significance for us; it underlines our progress, but also how committed we should stay," Saakashvili said.
Elections
On upcoming parliamentary elections, Saakashvili reiterated his call for the international community to watch closely the entire electoral process in Georgia.
"We have elections this year and we call strongly on international community, on European Union, the European Parliament, the OSCE, our partner country, including members of the Alliance to send not only short-term, but long-term observers, to do polling of public opinion for all this period, to monitor Georgian media coverage, to monitor party financing mechanism in order to ensure that not just the day of elections but the whole process is transparent, predictable from the point of view of observing standards and [to] exclude any kind of surprises and any kind of… pressure from outside and from destructive elements from any sides. So from that point of view we really need help from you this year," Saakashvili said.
"Usually countries – especially in my region – try to avoid all kind of international intrusion into their election process; but we want it in order to make the whole thing sustainable and institutional building irreversible," he added.
Earlier in March a coalition of election watchdog and legal advocacy groups called on the Georgian authorities to invite long-term observation mission from OSCE's democracy and rights arm ODIHR to monitor pre-election situation in the "in the shortest period of time." OSCE's Office for Democratic Institutions and Human Rights (ODIHR) deploys its observation mission upon the invitation from the government of a host country.
Afghan Mission
The NATO Secretary General underlined during the press conference, that by the end of this year Georgia would become the largest non-NATO contributor to ISAF after Tbilisi deploys additional battalion to Afghanistan.
President Saakashvili reiterated Georgia's commitment to the Afghan mission.
"It's a hard mission," Saakashvili said, "but we know what's at stake."
"We know that it also brings us close to the Alliance, it also resonates with Georgian history of being part of wider western, civilized and this case democratic wider community," Saakashvili said, adding that despite losses "our people know what's at stake for our future."
"Any kind of setback for NATO would be a major, multiplied setback for Georgia; that's a very clear thing for us," Saakashvili said.
During the press conference, the NATO Secretary General reiterated support to Georgia's territorial integrity, adding that recent elections in breakaway South Ossetia and Abkhazia did "not contribute to peaceful and lasting settlement of situation in Georgia."
He also said that NATO appreciated Georgia's unilateral non-use of force pledge and reiterated support to Geneva talks.