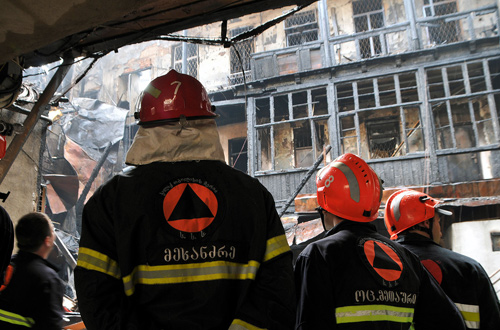 Firefighters watch a building on Rustaveli Avenue, burnt down in early hours of April 8. Photo: InterPressNews
A middle-aged coupled died after a fire ripped through an old three-storey apartment building in Tbilisi in early hours of Sunday.
Their 11-year-old daughter survived the fire on Rustaveli Avenue in the center of the capital city.
Over two dozen families have been affected by the fire, which also damaged a neighboring area housing an archive of the State University of Theatre and Film.
An official from the Tbilisi municipality said that families affected by the fire would be provided with monetary compensation to rent homes before a long-term solution is found. Later on Sunday the authorities decided to dismantle the burnt down building.
Electrical malfunction was said to be suspected in fire, which reportedly started in the ceiling of the building.