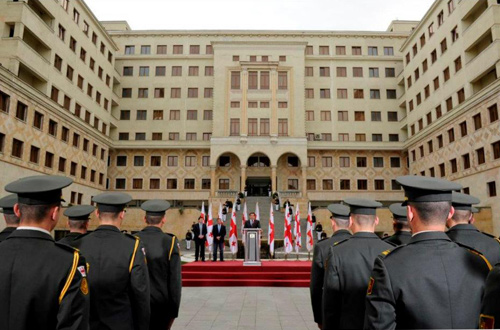 President Saakashvili addresses Georgian army officers in courtyard of the Parliament, April 9. Photo: Georgian President's administration
More than a decade of "uninterrupted" cycle of "discrediting the Georgian statehood" was replaced after the 2003 Rose Revolution by a new "uninterrupted cycle" marked by success of the Georgian state, President Saakashvili said on April 9.
"Of course our history does not start from 2003, but the period between 1989 and 2003 was uninterrupted years of discrediting the idea of Georgia's statehood," he said. "Uninterrupted cycle of success of the Georgian state has started since the Rose Revolution."
He was speaking in a televised speech before the Georgian army officers in courtyard of the Parliament in Tbilisi. The speech was made in connection to the 23th anniversary of April 9 tragedy, when at least twenty people were killed as Soviet troops attacked peaceful protesters in Tbilisi in 1989.
Saakashvili used the occasion to underline what he called Georgia's success in creating the first "modern state" in the Caucasus.
"For the first time in many centuries Georgia has created in the Caucasus something that no one could have ever imagined – the multi-ethnic, multi-cultural, multi-religious, modern state," he said.
"Those who will raise a hand against ethnic tolerance, they serve to Georgia's enemy; those who try to incite religious strife in Georgia, they serve to Georgia's enemy… Those who will raise a hand against the idea of the Georgian army and the Georgian reserve forces, they serve to Georgia's enemy. 50,000 people have enrolled to serve in [voluntary] reserve force only in recent months and this figure will increase to 100,000 by this summer," Saakashvili said.
He said that he traveled to the Russian border earlier on April 9 and talked with some Russian citizens, including residents of the North Caucasus, entering into Georgia via Kazbegi-Zemo Larsi border crossing point.

"For them, the Caucasians, Georgia represents an embodiment of their multi-century dream about having a modern state in the Caucasus, wherein the idea of equality and freedom… plays a leading role instead of any ethnic group or religious," he said.
"The essence of Russian empire is fundamentally in conflict with nature of the Caucasians… Georgia's current generation has seen what the freedom means and not only us, but those around us have also seen it; those Caucasians who enter into [Georgia] via Larsi have also seen it."
"Today Russian empire and its lapdogs are spending hundreds of millions in the West – in the United States and Europe, in order to stop [western] assistance to Georgia. But of course these [efforts] will fail to yield results, not only because Georgia's reputation is now as high as never before, but also because within Russia itself the public opinion towards Georgia is changing for good," Saakashvili said.
"That's why we need open borders, that's way we need development and more cultural exchanges, that's way we need more dialogue with those people, whose relatives and maybe fathers were killing here [in Georgia] our brothers and sisters; we will definitely find way towards that society, because like us, they too want freedom," he added.