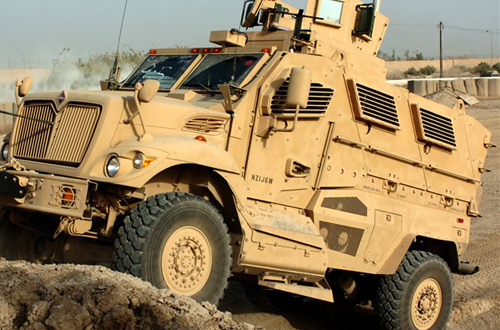 Mine-resistant, ambush-protected vehicle (MRAP) seen on this Pentagon photo in Iraq, November, 2007.
The U.S. brought into Georgia 28 mine-resistant ambush-protected vehicles, or MRAP, for exercises to train Georgian troops as part of preparation for the Afghan deployment, the U.S. embassy in Tbilisi said on April 11.
The embassy said in a brief statement, that the U.S. military would transport MRAPs by railway from Georgia's Black Sea port of Poti to Krtsanisi Training Area outside Tbilisi from 10-12 April.
"MRAPs are designed to protect occupants against armor-piercing roadside bombs and they are here to support U.S. training of Georgian troops who will contribute to the International Security Assistance Force in Afghanistan," the U.S. embassy said.
MRAPs have been brought only for training purposes, the Georgian Ministry of Defense's spokesperson told Civil.ge.
MRAP has been widely touted by the U.S. Defense Department as the best available protection for ground forces.
Former U.S. Secretary of Defense, Robert Gates, told the USA Today last year that MRAPs had proved to be ten times safer than Humvees in protecting troops during the roadside bomb attacks.
With improvised explosive devices (IED) being one of the major problems facing troops in Afghanistan, the Pentagon sent thousands of MRAPs there and is developing a lighter, more maneuverable version of the vehicle, according to the New York Times.
Last summer the U.S. Department of Defense donated 40 Humvee vehicles to a Georgian battalion, which at the time was getting ready for the Afghan deployment.