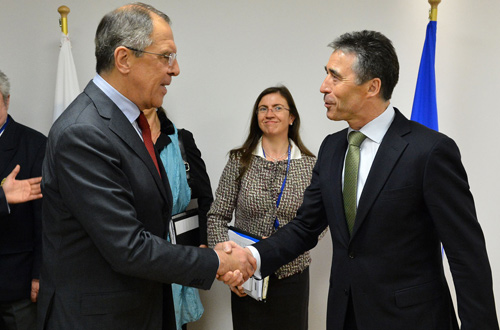 Russia's Foreign Minister Sergey Lavrov meets NATO Secretary General Anders Fogh Rasmussen in Brussels on April 19 ahead of NATO-Russia Council foreign ministerial meeting. Photo: NATO
Describing Georgia by NATO as an "aspirant" country, as well as Georgia's "re-militarization" is causing Moscow's "bewilderment", "regret" and "alertness", Russia's Foreign Minister Sergey Lavrov said on April 19.
Speaking at a news conference after the NATO-Russia Council meeting in Brussels, Lavrov said that 2008 NATO Bucharest summit decision, that Georgia would join the Alliance encouraged President Saakashvili "to attack Tskhinval" in August of the same year.
He made the remarks when he was asked by a Georgian journalist to comment on NATO Secretary General Anders Fogh Rasmussen's statement after the NATO-Russia Council that the Alliance maintained "disagreements in principle" with Russia over Georgia.
"Well, I think he [Rasmussen] said it in order to make everyone hear that NATO members remain committed to supporting Georgian leadership," Lavrov responded. "It causes our regret."
"Our position is well known and I told about it to my colleagues [from NATO]. Developments in August, 2008 did not escalate in an hour. From the very beginning of 2008 together with others from the so called Georgia's Group of Friends we were trying to develop non-use of force document. Georgia was strongly against of that. I even spoke for number of times with [then U.S. Secretary of State] Condoleezza Rice about it and she told me she could do nothing and that it was not an important issue, because if Georgia should have forgotten about cooperation with the West and NATO in case of use of force. At the same time in Bucharest it was decided that Georgia would become a NATO member. I think it had a serious impact on Saakashvili's psyche, which apparently made him believe in his impunity. After he attacked Tskhinval and Russian peacekeepers there, we responded."
"The fact that in their internal documents NATO partners are still referring to Georgia as so called aspirant country, causes our bewilderment and, to say frankly, alertness, because process of Georgia's re-militarization is ongoing very fast," Lavrov said.
Georgia was referred to as "aspirant" country for the first time in a final statement of NATO foreign ministerial meeting in Brussels on December 7, 2011, which triggered Russia's protest with Lavrov saying at that time, that he had "openly warned" the Alliance that such statements might serve as an encouragement for President Saakashvili to undertake "an adventure similar to the one of August, 2008."
Lavrov also said on April 19 that after visiting Washington earlier this year, President Saakashvili announced about securing "full restoration of military shipments and a pledge that Georgia will join the NATO."
"Although in overall, as far as I understand, this is his [Saakashvili's] own interpretation [of his talks in Washington] –he likes interpretations – it causes our alarm, because we do not want yet another destabilization in the South Caucasus because of yet another adventure from this person," Lavrov said.
"I reminded my colleagues [from NATO], that our peacekeepers [in South Ossetia in 2008] were shelled, our citizens were killed upon the orders from a person [referring to President Saakashvili], who had been promised with NATO membership at the Bucharest summit; people were killed with weapons, which were supplied to Georgia by many of those countries, which are NATO members and those soldiers were killing [people] who were trained by instructors from some NATO-member countries," Lavrov said, adding that "from the ethical point of view" it was "sacrilegious".
Georgian Foreign Minister Grigol Vashadze responded Lavrov's remarks by saying that Moscow was "irritated" not only by the fact that "Georgia will definitely join the NATO", but by the fact of "existence of independent Georgia."

"Mr. Lavrov and political elite in the Kremlin have two options: they should either accept the fact that Georgia has the right to join [an alliance] as its citizens want it, or Moscow will have to put up with this fact [of Georgia joining NATO], as he [Lavrov] put it, with 'regret' and with gritting its teeth," Vashadze said.
He said that Russia "undermines security and stability in the South Caucasus" by occupying Georgia's regions of Abkhazia and South Ossetia and by large-scale military built-up in those regions, involving deployment there of at least 5,000 troops, missile complex Tochka-U, Uragan and Smerch multiple-launch rocket systems and S-300 air-defense system.
"Russia's planned Kavkaz-2012 military exercises triggers alarm not only of Georgia, but of all the countries in the region. The major goal of these military drills is to seize independence and sovereignty of all three countries of the South Caucasus with a single strike," Vashadze said.