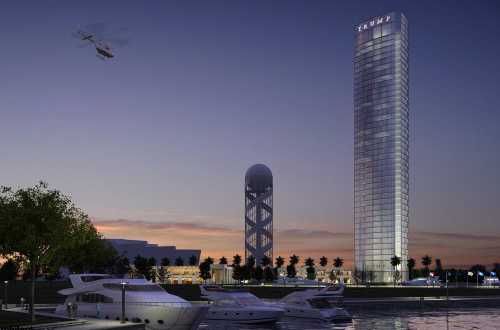 This is how Trump Tower Batumi with adjacent marina is expected to look like according to the project's master plan by New York-based architecture firm
John Fotiadis Architect
.
U.S. property tycoon Donald Trump arrived in Georgia to attend unveiling of planned Trump-branded luxury residential tower in Black Sea resort town of Batumi.
Trump, who arrived in Tbilisi on Saturday on his private jet and will stay in Tbilisi and Batumi for two days, does not own or develop the planned 47-storey Trump Tower Batumi.
The project is developed and owned by Silk Road Group (SRG), Georgian conglomerate whose businesses range from transportation and telecommunications to banking and real estate.
SRG uses the "Trump" name and mark under a license deal agreed with the real estate tycoon's property developer the Trump Organization in March, 2011 in New York during a ceremony attended by President Saakashvili.
SRG has hired a New York-based John Fotiadis Architect last summer to develop master planning and concept design for the planned Trump Tower Batumi.
According to John Fotiadis Architect, which has participated in development of Trump Towers Istanbul and Trump Parc in Stamford, construction of Trump Tower Batumi with a marina is planned to be completed in late 2013 or early 2014; next phase of the project will involve mixed-use development adjacent to the tower and marina. Total floor area of the entire project will be about 160,000 square meters, according to the master plan.
SRG last year announced about the plans to develop two Trump-branded towers in Georgia, another one in the capital Tbilisi, but as company's chairman Giorgi Ramishvili has recently indicated the focus was now made on Batumi and Tbilisi project was a future prospect.
The Trump-branded project in Georgia will serve as "a green light" to investors worldwide to invest in Georgia, said Economy Minister Vera Kobalia, who welcomed Donald Trump in the Tbilisi airport.