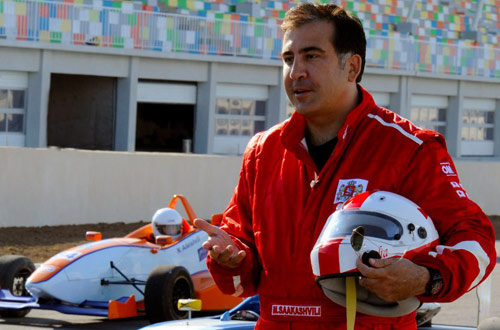 President Saakashvili comments on outgoing Russian President's remarks while visiting a motor racing track in Rustavi on April 26. Photo from Georgian President's official Facebook page.
President Saakashvili said on April 26, that he would resign and quit power if Russia in return gave up control over occupied Abkhazia and South Ossetia.
Few hours before these remarks, Russia's outgoing President Dmitry Medvedev said in an interview with the Russian television stations on April 26, that Saakashvili "is an empty place, a zero", who "will go away from the political history sooner or later."
Medvedev also said that Russia was ready "to build relations" with "any other new leader, who will appear" in Georgia.
"Me and my friends, partners, and I am sure the entire [Russian] people, have no antipathy whatsoever towards Georgia; on the contrary, Georgia is the country close to us; the Georgian people are close and dear to us. By the way, we have saved them for number of times," Medvedev said.
Standing on a motor racing track in Rustavi, outside Tbilisi, and dressed in auto racing suit with driver's helmet in his hand, President Saakashvili said in televised remarks, that Russia's goal was to replace government in Georgia with the one, which would "legitimize occupation" of Abkhazia and South Ossetia.
"They want to change the Georgian government because they want to bring such a [political] force [into power], which will directly or indirectly promise them that it will legitimize the occupation of the Georgian territories and it will stop gaining international support towards this issue and reconcile with the existing, as the Russian authorities call it, 'new reality'. That is what they are talking about," Saakashvili said.
"My response is very simple: if they are ready to return control over the occupied territories back to Georgia and withdraw their troops, I am ready to arrive immediately wherever they – either Mr. Medvedev or Russia's actual ruler [referring to Vladimir Putin] – want and sign an agreement according to which I and my government will quit power in exchange for return of the Georgian territories."
"They are saying they want to restore relations, so if they want to restore relations with united Georgia we are ready to put our signature – I am quitting, if they agree to return control over Abkhazia and Tskhinvali region and if they pull out their troops," Saakashvili said, adding that such a deal might take place under the international monitoring.
"I am also ready to cut and send them those parts of my body about which they have numerously expressed their interest; I am ready to do even this and I am saying it without any irony, if only they withdraw their troops from here," Saakashvili said, smiling.
He was referring to Vladimir Putin's remarks, when he reportedly said during the August war, that he would hang Saakashvili "by the balls."