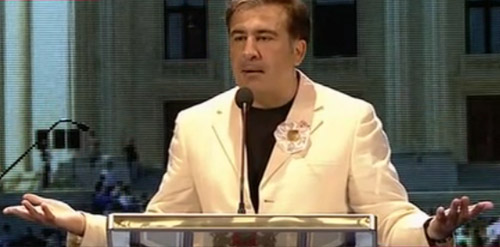 TV grab from the Rustavi 2 channel shows President Saakashvili speaking in the Kutaisi theater on May 2.
President Saakashvili told an audience gathered in a theater in Kutaisi on May 2 to give him "two, three four more years" and he would turn previously famous spa resort of Tskaltubo in western Georgia into the best place in Europe.
"Tskaltubo was the best place in the entire former Soviet Union. I guarantee you: give me two, three, four more years and you will see that I will turn it into the best place in the entire Europe," Saakashvili said in a speech, which was aired live by Rustavi 2 TV.
Saakashvili's second and final term in office expires in late 2013; he, however, can become prime minister, whose authority will significantly increase after the new constitution goes into force following the 2013 presidential election.
Saakashvili has always been noncommittal about his post-presidential plans and remained evasive every time when asked whether he would eye prime ministerial post or not.
In his speech in Kutaisi, Saakashvili spoke much about why he thought it was important to relocate Parliament into Kutaisi and to turn the country's second-largest city into "the second capital" of Georgia.
He said this process was "a very important foundation for the start of restoration of full control over western Georgia", including Abkhazia.