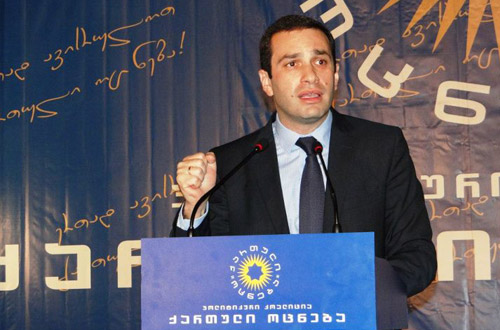 Irakli Alasania speaks with supporters at a meeting in the town of Zugdidi on May 4. Alasania's press office photo.
Irakli Alasania, leader of Our Georgia-Free Democrats party from Bidzina Ivanishvili-led opposition coalition, alleged on May 4, that a reported explosive device in the town of Zugdidi was planted and then defused by the Georgian authorities themselves.
"The fact that we are together here and the fact that neither a mine, first placed and then 'found' by some officials, nor 'an emergency situation' scared you away from coming here signals that iceberg is on the move and this iceberg will reach victoriously October [parliamentary] elections," Alasania said while addressing an indoor meeting of supporters in the town of Zugdidi, triggering laughter in the audience following Alasania's remarks on officials "placing and then finding" the explosive device.
"From today no one will be able to frighten us with Russian threat, with placed and then found bombs, [which aim] at forcing us to change our mind for the election day," Alasania said.
The Georgian Interior Ministry said earlier on May 4, that it had detained "an individual who crossed administrative border line from the Russian occupied territory of Abkhazia and smuggled explosive materials to Zugdidi", a town in western Georgia close to the breakaway Abkhazia. The ministry said in a brief statement, that the explosive material was defused by sappers. An area outside a local prosecutor's office in Zugdidi was sealed off by the police on Friday morning; the Georgian media sources reported that probe outside the prosecutor's office was related to an explosive device, which was found there.

During his speech Alasania also attacked President Saakashvili's recent remarks in which he said that Sokhumi "was not part of Georgia."
"Several days ago we've heard absolutely reckless and immoral statement from the President of our country, who said Abkhazia had never been part of Georgia; he wants to make people put up with [idea] that as if 'nothing important has happened and we have not lost anything, because it has never been with us anyway'. By saying this Saakashvili has actually told Russia: 'take it away what you've invaded and occupied, but don't touch my authority'," Alasania said.
President Saakashvili said on May 2, that Georgia's control over Abkhazia during the Soviet times was "only illusionary". "The Georgian language was not heard in Sokhumi; tell me frankly, how many Georgian songs have been written about Sokhumi? All the songs were dedicated to Vera, Vake, Ortachala, Avlabari [neighborhoods in Tbilisi]; there were good songs about Kutaisi too. No songs were written about Sokhumi; it was not part of Georgia," Saakashvili said.
During the meeting with supporters in Zugdidi, Alasania also said that the Georgian Dream opposition coalition had a potential to restore confidence with the Abkhazians.
"We should show to Abkhazians that with Georgia they will have much brighter future in the European house rather than under the Russian occupation. But it requires Samegrelo region and the entire Georgia to be economically strong; it, however, will not happen if Saakashvili continues Singaporization of the country and economic policies based on [former economy minister Kakha] Bendukidze's advices," he said.