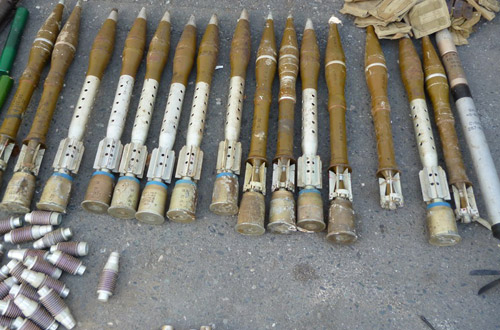 Photo from the website of the Russian National Counter-Terrorism Committee (NAK) shows part of ammunition, which it said, had been found in several arms caches in Abkhazia on May 4-5, 2012 and which allegedly were intended for carrying out terrorist attacks in Sochi in lead up to Winter Olympic Games, as well as during the games in 2014.
Security officials in breakaway Abkhazia are cautious at this stage to claim that a huge arms cache found in the region was definitely intended for terrorist attacks in Sochi in the lead up and during 2014 Winter Olympic Games, the Russian daily Kommersant reported on May 11.
Russia said on May 10 that large amount of arms and ammunition found in Abkhazia was intended for planned terrorist acts in Sochi and claimed that weapons were brought into Abkhazia by Chechen warlord Doku Umarov, who, it said, was "maintaining close links" with the Georgian security services.
An unnamed source from the breakaway region's national security council (NSC) told the Kommersant that "this version is being checked, but it is still premature to speak about the results."
Quoting the same source, the Kommersant also reported, that arms caches in the Gudauta district in Abkhazia were found as part of an investigation into an assassination attempt on Abkhaz leader Alexander Ankvab when his motorcade was attacked in February in which two of his bodyguards died. It was fifth, or possibly sixth, attempt on Ankvab's live since 2005.
"It was clear from the very beginning, that attackers [in February, 2012] were not only well-armed, but appropriately trained as well – they acted very skillfully; actually it was a real battle with use of grenade launchers and other weapons," the newspaper quoted source from the breakaway region's NSC.
One of the arms caches, according to the Abkhaz reports, was found in a house belonging to a local resident of Abkhazia, who was arrested on May 4 and charged with having links to assassination attempt against Ankvab in 2007; at the time Ankvab was PM of the breakaway region.
Russia said that arms were cached in Abkhazia by a local cell of Umarov-led Caucasus Emirate, called Abkhaz Jamaat.
The Russian National Counter-Terrorism Committee also said that Russian security services have been investigating this grouping since August, 2011.
The Abkhaz NSC source said, that it was the first time when "a terrorist group distinct with its clearly radical Muslim feature" had been uncovered in Abkhazia.
Announcement about this group – Abkhaz Jamaat, seems to come as a surprise for local observers and commentators in Abkhazia.
Inal Khashig, an editor of Sokhumi-based newspaper Chegemskaya Pravda, told RFE/RL's Russian-language service, Ekho Kavkaza, that although there "have been some sort of rumors" about existence of such a group, "but in overall it has not been visible." He said that announcement about the group was an unexpected twist to the investigation into assassination attempt on Ankvab. He also said that radical Islamist group was not something usual for Abkhazia. He said although it was impossible to completely rule out existence of such groups, "but I do not think there are many of these people" in Abkhazia.
In the past there have been cases of murder of or attempts on life of representatives of local Muslim community in Abkhazia.
Rustan Gitsba, who was arrested in connection to the arms caches in Abkhazia and who has been described as the leader of Abkhaz Jamaat, is the brother of killed Muslim cleric Khamzat Gitsba.
Khamzat Gitsba, who was an imam at Gudauta mosque, was shot dead in Gudauta in August, 2007.
Khamzat Gitsba fought against Georgian forces in the early 1990s in Abkhazia under the command of late Chechen warlord Shamil Basayev. In 1996 Gitsba and others seized the steamship Avrazia in Turkey's Black Sea port of Trabzon in a move to express support for Chechen rebels. He reportedly returned back to Abkhazia in 2000 after serving a prison term in Turkey and became a Muslim cleric. At the time of assassination of Khamzat Gitsba, the Russian daily Kommersant wrote that he had fallen out of favor with the Abkhaz authorities as the latter feared Gitsba was "inspiring Wahhabism" in Abkhazia.
Khamzat Gitsba's murder came less than six weeks after armored Land Cruiser of then Abkhaz PM Alexander Ankvab was attacked with a grenade-launcher on the road between Gudauta and the capital, Sokhumi, on July 9, 2007.
In July, 2010 imam at the mosque in Sokhumi claimed that he survived an assassination attempt after he had found an explosive device placed in his vehicle.
Several days later, in July, 2010 a member of the Spiritual Board of Muslims of Abkhazia, Emik Chakmach-Ogly, was killed in his house in the town of Gagra.
In early October, 2010 one man was killed and two others wounded after unknown gunmen opened fire to a group of prayers standing outside mosque in Gudauta. One of those wounded in that attack was Rustan Gitsba, who is now arrested in connection to arms cache in Abkhazia.
At the time Abkhaz prosecutor's office said that investigation into October, 2010 Gudauta mosque attack was pursuing several potential lines of inquiry, including possible involvement of foreign radical Islamist groups or foreign intelligence services.