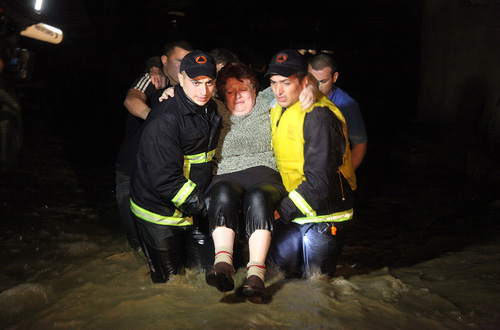 Rescuers evacuate a local resident from a house in Tbilisi's Ortachala neighborhood after midnight on Sunday as muddy torrent swept through a small street there. Photo: Guram Muradov/Civil.ge
Five people, including two children, have been confirmed dead n Tbilisi after heavy rain caused flood, according to the emergency service.
Photos: Flooding in Ortachala District of Tbilisi
Heavy rain, which started in the capital city at about 10pm on Saturday, caused muddy torrent on a small street in Ortachala neighborhood washing several cars from a hill down on Gorgasali street, close to the building of Chief Prosecutor's Office.
Rain flooded streets in other districts of the capital city, but this area in the Ortachala neighborhood was the most heavily hit, where five people died.
Floods were also reported in Dusheti of Mtskheta-Mtianeti region, about 55 kilometers north of Tbilisi.
Heavy rains caused flooding in Lagodekhi and Akhmeta districts in Kakheti region in eastern Georgia, where houses have been flooded, farmland and domestic animals washed away in several villages.
At least seven people have been hospitalized with no life-threatening injuries in Tbilisi, according to officials.
Heavy rain lashed the capital city for three hours with amount of rainfall in that period of time reaching 93 millimeters, according to the state agency of weather monitoring and forecast. Last time such amount of rainfall in Tbilisi was reported in 2009.
For a round up of some of the initial reactions from social media to flooding in Tbilisi, including some YouTube videos visit Civil.ge's Storify summary.