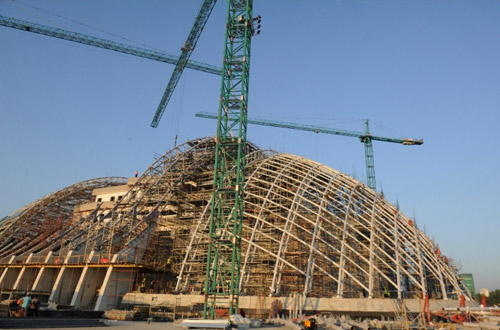 Construction of new parliament building seen on this photo dated with April 30, 2012.
GEL 133.7 million (about USD 82.5 million) has been spent so far for ongoing construction of new Parliament building in Kutaisi, Georgian Finance Minister, Dimitri Gvindadze, told news agency InterPressNews on May 14.
He said that public funds allocated from the state budget for construction works were fully transparent.
A report by Tbilisi-based legal advocacy group, Georgian Young Lawyers' Association (GYLA), released last month, which details legal aspects of the construction and its finances, says that information about the construction of the new Parliament building is actually in "secrecy" and spending of these public funds was "totally non-transparent". By tracking local budget of Kutaisi city, the group estimated that construction cost of the new Parliament was at least GEL 73.7 million.
The lawmakers are expected to hold first, "symbolic" session in the new Parliament on May 26 to mark Georgia's Independence Day, although construction will not be completed by that time. New parliament elected in October elections will be relocated to the new building in Kutaisi.