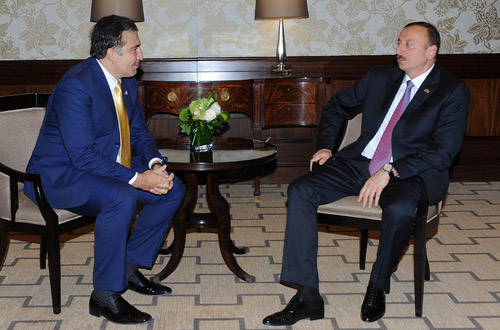 Georgian and Azerbaijani Presidents, Mikheil Saakashvili and Ilham Aliyev, respectively, at a meeting in Chicago. Photo from Azerbaijani President's website.
President Saakashvili met with his Azerbaijani counterpart Ilham Aliyev on the sideline of NATO summit in Chicago and discussed a recent controversy over portion of border in the area of David Gareji monastery complex, according to Georgian officials.
"Projects implemented jointly by Georgia and Azerbaijan were one of the main topics of the meeting. Attention was drawn to developments surrounding the David Gareji monastery complex during the conversation and it was noted, that negotiations on this issue would continue between diplomats of the two countries in frames of border commission. The two leaders have stated, that Georgian-Azerbaijani relations and cooperation has a huge importance not only for these two brotherly nations, but for the entire region," the Georgian President's administration said on May 20.
The Azerbaijani President's office said in a brief statement, that the two Presidents "expressed satisfaction with development of Azerbaijani-Georgian relations in various spheres" and "exchanged views about perspectives of bilateral cooperation."
Georgian Foreign Minister, Grigol Vashadze, said in televised comments from Chicago, that "large part of the conversation" between the Georgian and Azerbaijani Presidents "was dedicated to the developments surrounding part of Davit Gareji monastery complex, which has caused concern" of the Georgian society.
"I want to stress that this is not a new problem; during the Soviet times, intentionally or unwittingly, the administrative border was drawn in a way that 2% of this monastery complex fell on the Azerbaijani side of the administrative border. I want to stress that as soon as we return back to Georgia we will demand upon the President's instruction to immediately hold a meeting of the [bilateral Georgian-Azerbaijani border delimitation] commission in order to continue working on this issue with doubled efforts," Vashadze said.
Portion of Davit Gareji complex with its cave monasteries is one of the major stumbling blocks in border demarcation talks ongoing for many years already between Georgia and Azerbaijan. The recent controversy was caused after repositioning of Azerbaijani border guards on May 6 in a disputed border section running through the monastery complex, no longer allowing visitors from Georgia to access some of the sites of the complex.
Foreign Minister Vashadze said that an immediate priority of the Georgian Foreign Ministry was to secure unrestricted access of Georgian citizens to all parts of the monastery complex.
"As far as final status of this monastery is concerned, it is obvious what our goal is. This issue will be resolved through calm, methodic, gradual work which we carry out together with our Azerbaijani colleagues within the border [delimitation and demarcation] commission," Vashadze said.