'In a competition big money vs. democracy, good things always win and that's gonna happen in Georgia'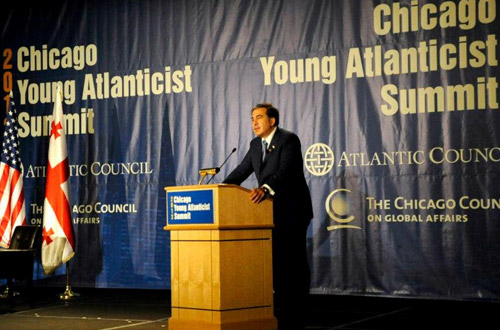 President Saakashvili addresses Young Atlanticist Summit in Chicago, May 20. Photo: Georgian President's administration
By amending constitution to allow leader of opposition coalition Georgian Dream, Bidzina Ivanishvili, to run in elections, the Georgian authorities have "undermined plot to de-legitimize" the October parliamentary elections, President Saakashvili said while addressing Young Atlanticist Summit in Chicago on May 20.
Asked, as an author of the question put it, "not such an easy question" about "termination of Bidzina Ivanishvili's citizenship", Saakashvili responded: "That's an easy one, a very easy question."
"There just was a change to the Georgian constitution where even if you are not a Georgian citizen and you are a European Union citizen you can run for anything," he said.
"Basically we undermined what was the plot to de-legitimize our elections," Saakashvili continued, "because, I think, what the enemies of the Georgian democracy want is Georgia to... look like the country that deprives its opposition election rights or some other things,"
"How many countries allow participation of non-citizens in presidential and parliamentary elections? We do and the reason why we do it is that we do not want anybody to undermine... the reality that Georgia is a democracy," he said. "That's what we basically did by this constitutional change."
To a followup question about Ivanishvili's entry into politics, Saakashvili responded: "We are free country. Even with big money resource or any other things anybody can take part in any electoral process - it's not an issue."
"What we'll do, we'll keep the framework intact. The framework is that people are equal under the law, one person is one vote no matter what are the resources behind that one person and ultimately I believe, that in any democracy, no matter what you do, popular will will prevail. Whenever there is a competition - foreign menaces versus national development or big money versus democracy, I think ultimately good things always win and generally, I think, that's gonna happen in Georgia"
After French citizen Ivanishvili was refused in citizenship through naturalization and told by the authorities to seek regaining Georgian passport through a different procedures, in particular through applying for dual citizenship, a constitutional amendment was proposed allowing Ivanishvili to vote and be elected in Georgia without having Georgian citizenship.
According to this proposal, which has yet to be approved by the Parliament with its third and final reading, a Georgian-born citizen of EU-member state, who "has permanently lived in Georgia for last 5 years", will be able to run in October parliamentary elections and presidential election next year. Ivanishvili says that such a constitutional amendment is "an absurd".