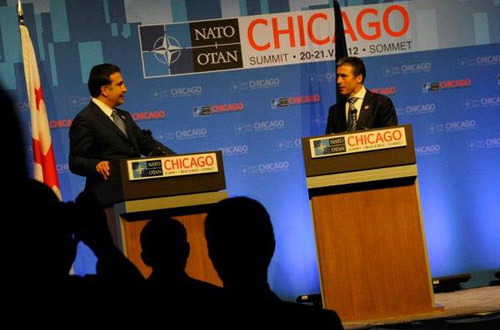 President Saakashvili and NATO Secretary General Anders Fogh Rasmussen make a joint statement for the press in Chicago, May 21. Photo: Georgian President's office.
Georgia will be in the best possible "shape" for next NATO summit and there will be no reason to reject Georgia's membership to the alliance, President Saakashvili said.

Speaking to Georgian journalists in Chicago after the two-day NATO summit on May 21, he reiterated his earlier remarks and said that one of the key positive outcome of the summit was putting Georgia in the context with three Balkan NATO aspirant countries.
"Those three Balkans states will definitely join NATO, everyone knows it; so in this respect this is a very serious step forward," he said.
"Hillary Clinton, as well as others, has stated that the next [NATO] summit will be enlargement summit – consensus is being established about it right now," Saakashvili said referring to remarks by the U.S. Secretary of State, who said: "I believe this [Chicago] summit should be the last summit that is not an enlargement summit."
"The next summit will probably take place in 2014 and I think that Georgia will have a very good chances; I've never been so sure about it as I am now," Saakashvili said.
"If our progress continues – and it will definitely continue – we will be in the best shape for the next summit and it will be extremely difficult to explain by that time why Georgia should not be accepted to join the NATO; of course much work has to be done," he said.
"I think that our ill-wisher's – I won't mention [this person] by name – major interest will be to maximally stir turmoil in Georgia before the next [NATO] summit with use of various mechanisms, including during the electoral period in order to then say: 'how can one seriously consider such country's [NATO membership]'. I think we have learned a good lesson in recent years, the Georgian people is already very experienced and knows that one should not step the same landmine twice and learned how to distinguish all kinds of tricks; so we will continue our progress and we'll get where we should be," Saakashvili said.
"Meanwhile, we should also understand that NATO has already become a serious security factor for us," he added.
He said that NATO "has a clear-cut policy" of supporting Georgia's territorial integrity and "that is decisive" factor.
"It was a signal sent not only to the Georgian people, but to our neighbors in the region too," Saakashvili said. "I think that it will gain a practical importance for our security starting from today."
In a joint statement made for the press with President Saakashvili on May 21, NATO Secretary General, Anders Fogh Rasmussen, reiterated key points of the Chicago summit's declaration in respect of Georgia and noted reform progress made by Georgia.
"The fact that Georgia has been the only partner country to participate in all three partner events in this summit is a testimony of a very special relationship between Georgia and NATO," Rasmussen said.
Georgian Parliamentary Chairman, Davit Bakradze, has claimed that Chicago summit's outcome amounted to receiving a roadmap to membership.
"In Chicago we have received something that we failed to get in Bucharest; in Bucharest we have received a pledge that we will become NATO members and in Chicago we have received a concrete path towards the membership," Bakradze said.
Chicago summit declaration welcomed Georgia's progress in implementing reforms to meet its Euro-Atlantic aspirations and similar to previous ones, again reiterates the alliance's decision that Georgia will join the NATO.
The declaration repeats the wording of 2010 Lisbon summit's final document, saying: "At the 2008 Bucharest Summit we agreed that Georgia will become a member of NATO and we reaffirm all elements of that decision, as well as subsequent decisions."
During 2009 summit in Strasbourg/Kehl NATO leaders said that Georgia's Annual National Programme, setting reforms targets, would help Georgia in advancing its reforms "without prejudice to further decisions which must be taken about MAP" – Membership Action Plan, a precursor to an eventual membership to which Georgia was refused at 2008 Bucharest summit.