'Elections - a matter of life and death for our country';
'Our goal is not to defeat anyone; our goal is Georgia's victory';
'We'll make no promises, which are impossible to deliver on';
'We are starting struggle for Georgia's reunification in order to make unified, democratic Georgia a full-fledged member of EU, NATO';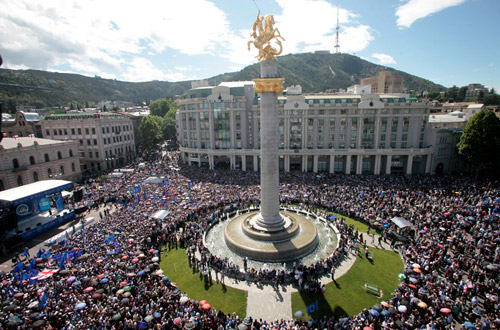 Supporters of Bidzina Ivanishvili-led Georgian Dream opposition coalition gathered on the Freedom Square, May 27. Photo from Ivanishvili's official Facebook page.
Leader of opposition coalition, Georgian Dream, Bidzina Ivanishvili told tens of thousands of supporters at a rally in Tbilisi center on Sunday that he had "a clear plan" and would "definitely win" parliamentary elections this October.
The rally, marking a formal launch of the Georgian Dream's election campaign, was the largest opposition demonstration in Georgia since 2009.
The event, which was first announced exactly a month ago, started on Sunday afternoon with gathering of the Georgian Dream's activists and supporters at three separate locations with large columns then marching and joining on Freedom Square for the campaign rally. Ivanishvili with his family members, surrounded by his security guards, was in the column marching through Rustaveli Avenue.
The campaign rally itself lasted for less than an hour opening with the Georgian national anthem, followed by Ivanishvili's 20-minute long speech and closing by couple of songs performed by Ivanishvili's teenage son, Bera, who is a pop singer. The rally then dispersed peacefully; no incidents have been reported.
Georgian Dream plans to hold next campaign rally on June 7 in Kutaisi, Georgia's second largest city, which became the major venue for Independence Day celebrations on May 26.
In his speech Ivanishvili mainly focused in general terms on priorities of his coalition, but also made few attacks on President Saakashvili calling him "a coward man", who is left in the past and "is separated from traditions and reality."
"Recklessness of the authorities reached a level, which is already a serious threat for the Georgian statehood," he said. "Political struggle to change the existing regime not just my desire, but it is my obligation; this is the obligation of every Georgian citizen; this is a matter of dignity."
"Parliamentary election this fall is a matter of life and death for our country," he said.
"We will definitely win, but only desire is not enough for a victory, even hard work and self-sacrifice are not enough for a victory… A well-thought and clear plan is needed."
He said that having a clear plan was part of his "nature".
"Seven months have passed since making my first statement [about going into politics] and I assure you that everything develops in line with my plan," Ivanishvili said.
"I assure you that processes will become irreversible starting from today; it is already impossible to stop the process… No matter what actions the authorities undertake, our struggle will be accomplished with the victory."
Stressing on his background of coming from a hard-working, poor family, who managed to "achieve a huge success in business, while at the same time maintaining integrity", Ivanishvili said he knew "how to change life for the better" for the people.
He vowed to "diminish the problem of unemployment to minimum level in the shortest period of time".

"We'll make no promises, which are impossible to deliver on. Each of our promise will be real and well calculated," Ivanishvili said.
"We won't be able to make miracles, but we'll do maximum of what is possible."
He said that detailed program, which "will be finally shaped with your participation", would be presented in the process of election campaign; he then spoke of "priorities" in general terms, saying that his political force would focus on securing "freedom and welfare of each citizen".
He started talking about priorities with healthcare system, saying that the Georgian Dream will "eradicate monopolies" in this sector and provide "free health insurance packages to each and every citizen of Georgia", instead of insurance for "every second citizen" offered by the authorities.
Then he mentioned education system, vowing to make "quality education" available for "every citizen in the shortest period of time" and to maintain "schools in each village" instead of closing them "under the pretext of optimization."
He then addressed agriculture and vowed to make the sector's "share in Georgia's economic growth significant."
Ivanishvili also said that pensioners should be receiving pensions in an amount that would allow them "to live in dignity." The Georgian Dream coalition has already vowed to increase monthly pensions to at least GEL 220.
"We have a clear plan how to solve all these problems. We are starting today in order to change Georgia's situation for the better tomorrow… We are starting full-fledged campaign and we are already working intensively both within the country and abroad."
"We are starting struggle for Georgia's reunification in order to make unified, democratic and strong Georgia a full-fledged and dignified member of the European Union, NATO and the international community," he said.
"Our – Georgians, Ossetians, Abkhazians, Jews, Azerbaijanis, Armenians, Russians, Greeks and others – dream is common: to restore the country's unity and to create the country, which will be acceptable for everyone," Ivanishvili said.

"By fall entire Georgia will be united like a fist… We will definitely win this struggle, I promise," he said.
Earlier on May 27, before Ivanishvili's rally was launched, President Saakashvili met with a group of entrepreneurs and said there always would be "several tens of thousands of people… dissatisfied" with reforms, including those former policemen and corrupt officials sacked after the Rose Revolution, ready to take part in any anti-government protest rally.
Ahead of the May 27 rally, Ivanishvili gave interviews to three Tbilisi-based TV stations – Kavkasia, Maestro and Channel 9 (the latter owned by Ivanishvili's wife), calling on Tbilisites to turn out at the rally in large numbers. He was saying that the rally should serve as a show of force, which would help to ease victory in the parliamentary elections.
No other leaders of the Georgian Dream made speeches at the campaign rally. Some well-known public figures, who are now with the Georgian Dream, spoke from the stage before the arrival of Ivanishvili and columns of marchers on the Freedom Square. A retired footballer, Kakha Kaladze, who was a captain of the Georgian national team, called on the rally: "Let's stand beside the leader of our nation Bidzina Ivanishvili" and then added referring to President Saakashvili: "Misha, people no longer trust you and you should go."
Davit Berdzenishvili of the Republican Party, part of the Georgian Dream coalition, said the rally marked "a very good start and we will celebrate victory in October."
Ivanishvili himself may not run in the parliamentary elections. A constitution has been amended to allow French citizen Ivanishvili to vote and be elected in Georgia's parliamentary and presidential elections without becoming a Georgian citizen. The amendment has yet to be signed into law by the President and Ivanishvili called on him to veto it as he would not make use of this amendment calling the changes "absurd." He said no matter whether he would personally be able to run or not it would not derail his coalition's plans, which will run in the elections under the name Ivanishvili-Georgian Dream.
Ex-parliamentary speaker Nino Burjanadze showed up at the rally, telling journalists that she was there "to show solidarity towards any action that will be directed towards the change of the regime." Burjanadze, whose opposition party led last year's street protests broken up by the riot police, is not part of Ivanishvili-led coalition.