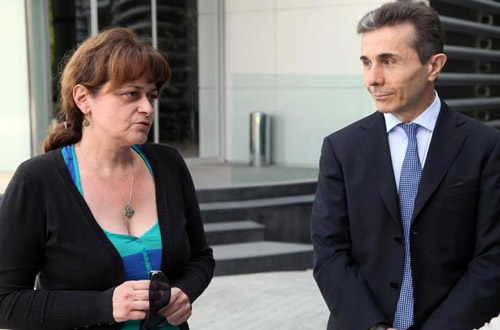 Former director of the National Examinations Center (NEC) Maia Miminoshvili and leader of Georgian Dream opposition coalition Bidzina Ivanishvili after meeting on May 29. Photo: Ivanishvili's press office.
Dozens of employees of the National Examinations Center (NEC) at the Ministry of Education said on May 29, that they had filed for resignation in protest over dismissal of NEC director Maia Miminoshvili.
They, however, also say that they will continue performing their duties for a month in order not to hinder ongoing process of school-leaving exams and to work on a smooth transition before replacement of the resigned staff arrives ahead of university entry exams.
In a statement, read out outside NEC office on May 29, senior staff of the center said that Education Minister Dimitri Shashkin's decision to abruptly fire Miminoshvili amid ongoing school-leaving exams was "irresponsible" move. The statement also says that motive cited by the Minister behind his decision - "incompatibility of principle nature between the Education Ministry's policy and personal position of Maia Miminoshvili" – was "incomprehensible and vague."
It also reads that during a meeting late on May 28 with the NEC staff, Minister Shashkin "failed to name" any concrete case demonstrating "incompatibility of principle nature".
The statement also calls on the Education Minister to publicly explain reason why he had decided to sack Miminoshvili at this point of time, "otherwise it will be impossible for the Minister to deny allegation that his decision was irresponsible."
After Miminoshvili's dismissal was announced, rumors started to swirl that presence of her son in a campaign rally of Bidzina Ivanishvili-led Georgian Dream opposition coalition in Tbilisi on May 27, might be the reason behind her sacking.
On May 29 Miminoshvili met with Ivanishvili.
After the meeting former head of NEC said that leader of the Georgian Dream asked her for a meeting to inform him about developments surrounding her dismissal.
Asked whether she was going to join the Georgian Dream, Miminoshvili said the only issue she was thinking right now was to soothe concerns of the NEC staff in order to secure unhindered process of school-leaving exams. Later on May 29 she said that she had no intention of joining the Georgian Dream coalition.
"I know for sure that I am not going into politics," she said.
NEC, under the subordination of the Education Ministry, is in charge of administering school-leaving, university entry, teachers' certification exams and tests.
Miminoshvili was head of NEC for about ten years. In late 2007 she was appointed as Education Minister, but returned back to her previous post as NEC director less than two months later.
Later on May 29 Deputy Education Minister Koka Seperteladze said that new head of NEC would be appointed on May 30.
He said that there were number of difference between the ministry and Miminoshvili's opinions over some key reforms, among them on intended change of format of school-leaving exams, as well as on types of school certificates specially designed for ethnic minority groups.
Nino Potrzhebskaia, a spokesperson for the ministry said on May 29, that before dismissal Miminoshvili was offered other posts, including in the healthcare ministry or an ambassadorial post in one of the European countries, which had been declined by Miminoshvili.
Miminoshvili confirmed she had been offered a post of an ambassador to Switzerland, which she declined "for obvious reasons."
"A person with absolutely no diplomatic experience working in the diplomatic service - that's absolutely unimaginable for me," Miminoshvili told Maestro TV.