Clinton: 'long-term security will depend on the quality of democracy'
Saakashvili: 'transfer of power already happening';
U.S. to accept neutral travel documents;
Three 'new areas in defense cooperation'

After talks with President Saakashvili in Batumi on June 5, Secretary Clinton enjoyed a wine tasting in 'Wine House' in Keda outside Batumi and later on the same day watched a performance of traditional folk dancers on a central square of Batumi before going on a sightseeing tour of the Black Sea resort town with President Saakashvili.
Free and fair elections that will result into a fully democratic transfer of power will be the "single best thing" Georgia can do to advance its security, democracy and international reputation, U.S. Secretary of State Hillary Clinton said during her visit to Georgia on June 5.
Speaking at a joint news conference after meeting with Secretary Clinton in Black Sea resort town of Batumi, President Saakashvili said that democratic transfer of power was "normal part" of any democracy and that process was already underway in Georgia, citing direct election of Tbilisi mayor two years ago, as well as "de-centralization" process also involving relocation of Parliament from Tbilisi to Kutaisi.
After opening the U.S.-Georgia Strategic Partnership Commission session earlier on June 5, Secretary Clinton participated in a ceremony of commissioning Georgian coast guard patrol boats, upgraded with the U.S. assistance, met with opposition representatives and held talks with President Saakashvili, followed by a joint news conference.
Elections and 'Completely Democratic Transfer of Power'
After announcing about three new elements of U.S. assistance to Georgia's defense capabilities during her opening remarks at the press conference, involving helping Georgia to better monitor its coasts and skies, to upgrade Georgia existing utility helicopter fleet and training of officer, Secretary Clinton said that Georgia's "long-term security and prosperity will depend in large part on the quality of your democracy."
"The United States will stand with the Georgian people as you take the next steps to strengthen the rights, freedom and opportunities of all your citizens. Every Georgian deserves to live in a tolerant, democratic and inclusive society," she said.
"Today I met with leaders of the opposition parties and discussed their vital role in deepening Georgia's democratic development. The United States believes competing energies and ideas drive the democratic process; civic activism, open debate and level playing field, citizens' access to information are all vital as you move towards parliamentary elections and then presidential elections."
"We expect Georgia will hold free and fair elections this fall and then completely democratic transfer of power in 2013 and we believe that every party and every candidate should respect the political process and we look forward to welcoming a strong relationship with those that the Georgian people choose," Clinton said.
In his opening remarks at the press conference, Saakashvili hailed the U.S. support as "instrumental, fundamental for our survival" and said that his government "is committed to have free and fair parliamentary elections this October."
"I am sure these elections will express free will of the Georgian people," he said and reiterated Georgia's willingness to host as many international observers as possible in order to make upcoming elections "as transparent, as fair, as trustworthy as we can get." Secretary Clinton welcomed Georgia's initiative to open early electoral process and to invite international observers, saying that monitoring was key in ensuring transparency.
When President Saakashvili was asked by Reuters if he could "categorically rule out possibility" of taking over the post of prime minister after his second and final presidential term in office expires in late 2013, Saakashvili adhered to his long-standing stance over this question by saying that he would not turn himself into a lamed duck president by speaking about this issue now.
"First of all I have to say – Madam Secretary also talked about it – the democratic transfer of power is a normal part of any democracy and by the way in Georgia it is already happening… We moved part of the central government powers, the presidential powers to the directly elected mayor of Tbilisi, to the elected city councils around the country," Saakashvili said.
Tbilisi is the only city in Georgia where the mayor is directly elected since 2010. City Councils (Sakrebulo) across the country were first elected during the 1998 local elections in Georgia.
Saakashvili also said that "de-centralization" was part of the process of transfer of power involving "empowering" of the country's regions and added that relocation of Parliament from Tbilisi to Kutaisi was also part of that process.
"I think Georgia has developed number of very important institutions, which will make focus on institutions rather than on individual personalities," he continued.
"Since day one I was in the office, I was offered this brilliant opportunity to turn myself into lame duck voluntarily, especially considering what kind of reforms we have to achieve and complete by the end of my second term, I am certainly not going to cede to this temptation to do it even for such a wonderful agency as Reuters," Saakashvili said.
"The process is there; Georgia's democracy is getting stronger and ultimately that matters most of all," Saakashvili said and added: "People's choice is the most respected thing."
Responding on the same issue, Secretary Clinton said he would not "speculate on hypotheticals" and would not comment on the reality of other country's leader.
"Let me just emphasize how important is that the decisions that are made by Georgia's leaders and citizens demonstrate a firm commitment to building of democratic institutions. I think that's what the President was just saying, that in any democracy institutions have to be more important than people; individual leaders should come and go, but institutions should be strengthened and one of the ways of doing that is to have election – first for the parliament then for presidency – that are universally regarded as valid; that will speak volumes about where Georgia is on your path of sustainable democracy," Clinton said.
A journalist from Georgian television Rustavi 2 asked Secretary Clinton about "concerns in Georgia" over Russia's planned military exercise in North Caucasus; the question was asked in the context of upcoming elections in Georgia. President Saakashvili said for couple of times in recent months that Russia deliberately timed its military drills with elections in Georgia in October.
"I believe that 2012 parliamentary elections and 2013 presidential elections are really in hands of the Georgian people," Clinton responded. "I believe that they will be a crucial indicator of the progress Georgia has made on its democratic path. The President and I… have expressed our hopes that this will be a model election that will provide competitive electoral environment."
"I think that single best thing Georgia can do to advance your security, your prosperity, your democracy, your international reputation is [to hold] free and fair elections that result in a fully democratic transition," Clinton said.
"Yes, there will be military maneuvers, but the really important events in the fall will occur inside Georgia as the people of Georgia cast their votes. I cannot think of a stronger message that could be sent to anyone, anywhere in the world than that. So we will clearly continue to consult closely with the Georgian government to ensure that we are standing with you, but the most critical event is not another country's military exercises, it is Georgia's elections and that will speak louder than any military exercise could ever do about what Georgians stand for, your resilience, your strength, your commitment to democracy," she said.
U.S. to Accept Neutral Travel Documents
In her opening remarks Secretary Clinton announced about the U.S. decision to start accepting neutral travel documents, which Georgia launched for the residents of its breakaway regions.
"Today we also discussed ways Georgia can reach out to the people of Abkhazia and South Ossetia regions, including providing status neutral travel documents and identification cards," she said.

"Soon U.S. embassies and consulates around the world will accept the status neutral travel document for any resident from these regions who chooses to use them for travel or study and in the United States. This would be a strong step towards reconciliation and supports a peaceful and just resolution of the conflict," Clinton said.
She once again reiterated the U.S. "steadfast" support to Georgia's sovereignty and territorial integrity.
'New Democracies Look to Georgia'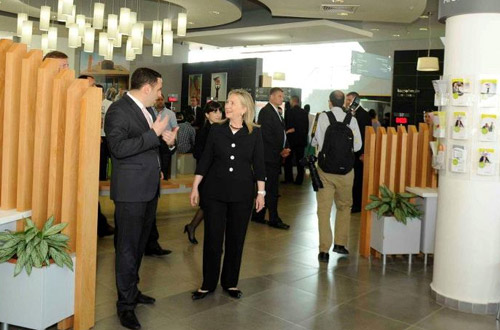 Secretary Clinton tours Public Service Hall in Batumi with Deputy Justice Minister of Georgia Giorgi Vashadze (left). President's administration photo
Meeting between President Saakashvili and Secretary Clinton was held in a newly built Public Service Hall, a venue where a citizen can get multiple services from various state agencies under the single roof, which has turned into one of the staples of reforms in Georgia. The authorities have recently announced about the launch of a state agency that would "export" Georgia's reform experience, including in providing services to citizens. Giorgi Vashadze, Georgia's deputy justice minister, who is also in charge of running Public Service Halls, said earlier on June 5 that Georgia would offer the U.S. to be its partner in implementing similar reforms to other countries.
Secretary Clinton said that the Public Service Hall was "a testament of positive changes" Georgia had made in last twenty years.
"So many countries, particularly new and struggling democracies, are looking to Georgia; they want to know how Georgia accomplished so mush in such a short period of time," she said.