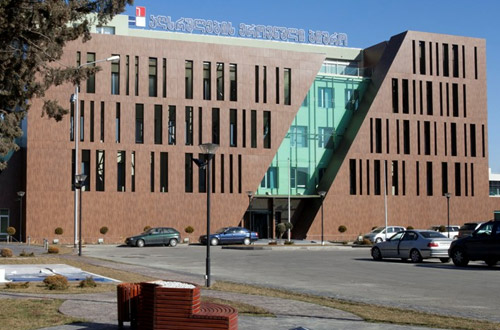 National Bureau of Enforcement (headquarters seen on the photo from bureau's website) said Bidzina Ivanishvili will be notified to voluntarily pay the fine within seven days, otherwise will face "compulsory enforcement actions."
The state agency in charge of enforcement of court decisions has been put into action in a case of GEL 74.32 million (about USD 45.4 million) financial penalty imposed on Bidzina Ivanishvili, the leader of Georgian Dream opposition coalition.
Bidzina Ivanishvili has said previously that he would not pay the fine.
"At the first stage the procedure envisages sending a notification to a debtor to voluntarily fulfill the [court] decision within seven days. After the expiration of [this seven-day deadline] compulsory enforcement actions will be undertaken," National Bureau of Enforcement at the Ministry of Justice said in a statement on June 20.
According to procedures, in case of non-payment of a financial penalty, an enforcement officer launches evaluation of assets of a person facing penalty; the property will then be seized and auctioned; the auction has to be conducted one month after the evaluation of property is completed.
The Tbilisi City Court in its two rulings into two separate cases on June 11 imposed total of GEL 148.68 million (about USD 90.9 million) fine on Ivanishvili after upholding a decision by the state audit agency accusing Ivanishvili of violating party funding rules.
On June 15 the Court of Appeals in Tbilisi in essence upheld the decision of the court of first instance, which found that Ivanishvili violated the law, but decided to halve the amount of financial penalty to GEL 74.32 million.
Ivanishvili's lawyers said the court proceedings were unfair and the court ruling was part of the authorities' campaign of targeting political opponent; the lawyers also said that they would take the case to the Strasbourg-based European Court of Human Rights.
In a speech at campaign rally in Ozurgeti of Guria region on June 17, Ivanishvili said that multi-million fine imposed on him was part of "Saakashvili's miserable tricks."
"I know that there are concerns about it in the society, but don't be afraid, it won't stop me," he said.