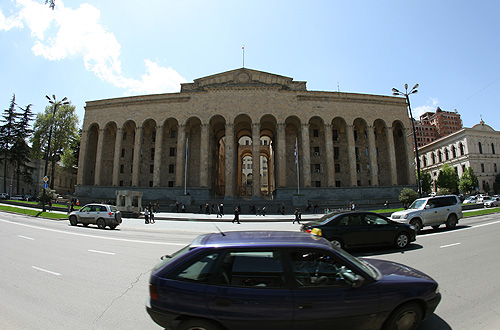 Parliament building in Tbilisi. Construction of the building was completed in 1953. Photo: Guram Muradov/Civil.ge
Parliamentary Chairman Davit Bakradze said that "several investment groups" had expressed interest in buying of the Parliament building in Tbilisi, which is currently being vacated, as the legislative body prepares for relocation to a new chamber in Kutaisi.
Bakradze said on July 19, that there were both "foreign and Georgian investment groups" among those interested in purchasing the Parliament building, but he did not elaborate details, adding that the ministry of economy was in charge of negotiating with potential investors.
Some employees of the Parliament said the staff had been ordered to remove their belongings from their offices.
Parliament is currently in its summer recess and if parliamentary election date is set for first half of October it means that the sitting legislative body will not be reconvened for its regular autumn session in September as the Parliament ceases working a month before the elections. The Parliament will only be convened in case of an extraordinary session – such session is expected for next week to consider planned budgetary amendments to allocate funds for relief efforts following strong wind and hail in Kakheti and some other regions of the country. Bakradze said that the relocation process would not hinder holding of an extraordinary parliamentary session.