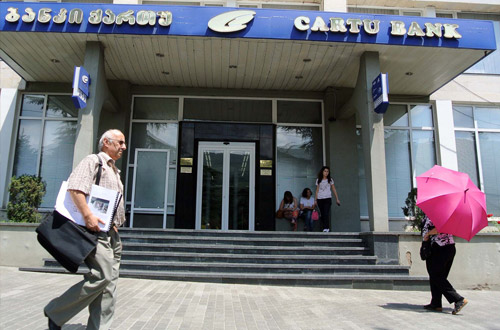 A man passes by headquarters of the Cartu Bank in Tbilisi, July 13. Photo: InterPressNews
Cartu Bank, affiliated with Georgian Dream leader Bidzina Ivanishvili, has asked the chief prosecutor's office to launch criminal investigation against its former temporary manager, who was appointed by the state.
Cartu Bank claims that its former temporary manager intentionally made several such deals, which now pose a threat of turning the bank insolvent thus paving way for imposing temporary administration by the central bank.
After Bidzina Ivanishvili refused to pay his multi-million fine, the state temporarily took over Cartu Group, a holding company which also includes Cartu Bank, and Ivanishvili's 21.7% shares in another Tbilisi-based bank Progress Bank.
On July 12 the state appointed through court's approval a temporary manager, Vladimer Ugulava, whose task was to oversee seized banking assets with a purpose to secure diverting bank's profit towards covering Ivanishvili's multi-million fine. After taking over his duties, Ugulava sacked the bank's top management.
Less than two weeks later, Ivanishvili paid GEL 80 million fine (about USD 48 million), saying that it was his contribution to relief efforts for several disaster-hit provinces of the country.
A day after the fine was paid, court ceased on July 26 temporary conservatorship over Cartu Bank, but after the bank's original team of top managers retuned they found out that during its two-week tenure the temporary management signed on July 24 four loan contacts with four real estate developers with total worth of USD 50 million due to be paid within five days.
Mzia Todua, head of Cartu Bank's legal department, said at a news conference on August 2, that by signing these "damaging contracts" temporary management forced Cartu Bank into an obligation which the bank is not able to meet.
She said that in addition contracts were made in violation of whole set of regulations and the loans were approved by the temporary management without even having conclusions from risk management, legal and credit departments.
"All these circumstances make us think that their [temporary management's] actions were directed towards violation of central bank's norms, which in turn can become a reason for imposing temporary administration," Mzia Todua said.
She said that instead of managing the bank with a purpose to gain profit in order to pay the fine, the temporary management "has undertaken actions which were harmful for the bank."
Although the bank's supervisory board decided to make the contracts void, it has only dragged out the process of fulfillment the commitment to provide USD 50 million but it did not relinquish the bank from this commitment.
It is up to the court to annul these contracts and for that reason the Cartu Bank appealed on July 30 court with a request to cancel the contracts. In addition Cartu Bank also asked the prosecutor's office on August 1 to open criminal investigation against Vladimer Ugulava.
Cartu Bank's director general, Nodar Javakhishvili, told RFE/RL that this obligation was now hanging like a sword of Damocles.
"These agreements violate all laws, rules, and procedures of Georgian banking legislation, as well as international norms. We will not abide by them, most likely," he said. "But this makes no difference – I have no authority to annul them, only the courts can do that. And there is virtually no chance of this happening. And if they are not annulled, then these obligations hang like a sword of Damocles over the bank. The National Bank will decide these obligations are real and will declare [Cartu] insolvent."