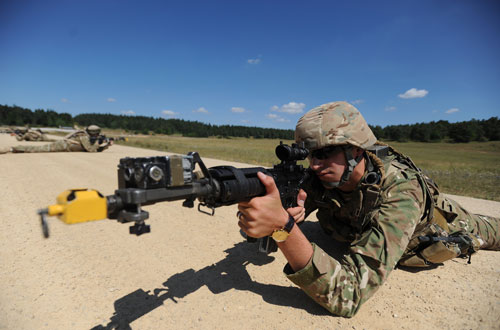 A soldier from Georgia's 32nd light infantry battalion provides security during a Situational Training Exercise at the Joint Multinational Readiness Center at Hohenfels, Germany, August 1. Georgian soldiers were participating in a mission-rehearsal exercise for their upcoming deployment to Afghanistan.
U.S. Army Europe photo
by Spc. Joshua E. Leonard.
Georgian Defense Minister, Dimitri Shashkin, visited the U.S. army training center in southern Germany this week where Georgian soldiers from two battalions are undergoing training ahead of their deployment in Afghanistan.
Soldiers from 32nd light infantry battalion of the third brigade and 12th light infantry battalion of the first brigade have received pre-deployment training from the U.S. instructors at the Joint Multinational Readiness Center at Hohenfels.
It will be a second deployment to Afghanistan for the 32nd battalion and the first tour of duty to NATO-led forces for the 12th battalion as Georgia plans to increase its contribution to ISAF this year to over 1,600 troops that will make the country the largest non-NATO contributor to the Afghan operation.
Georgia has lost 17 soldiers in Afghanistan since joining the NATO-led operation in November, 2009.