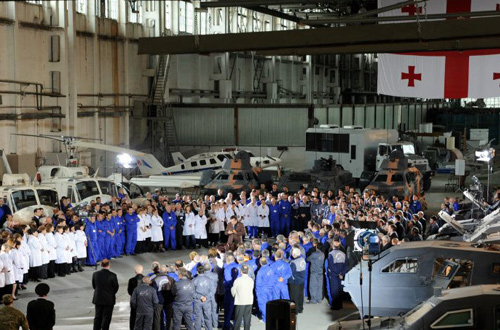 President Saakashvili speaks with workers at the state-owned TbilAviaMsheni factory in Tbilisi, which is part of the Defense Ministry's military research-technical center Delta, on April 11, 2012. Photo: President's administration.
Georgian state-owned Tbilisi Aircraft Manufacturing (TbilAviaMsheni or TAM) has teamed up with Ukrainian flight simulator producer, Market-Mats, to invest in the Hereford enterprise zone in the west of England, according to the UK government.
The U.S.-based business development consultancy Get It Group LLC, working with TAM, and Market-Mats have signed an exclusivity agreement to locate their advanced manufacturing campuses in the Hereford Enterprise Zone, the UK Department for Business, Innovation and Skills (BIS) said last week.
Hereford enterprise zone is one of those 24 new such zones, which were created by the UK's Conservative-led coalition government to encourage new businesses and jobs by providing potential investors financial incentives, reduced planning restrictions and other benefits.
Tbilisi-based TAM is a military and civil aircraft development and manufacturing company, which also produces non-aviation industrial products. TAM provides overhaul, maintenance and upgrading of SU-25, MIG-21 type aircrafts, MI type helicopters and also manufactures business jets.
TAM, which was privatized seven years ago, was taken over by the state in 2010 as part of the Georgian government's drive to develop domestic military industrial complex. The company is now part of military research-technical center Delta under the Ministry of Defense (MoD).
Details of TAM's planned project in the UK remain unclear.
The Georgian MoD has declined to respond to inquiries from Civil.ge about the details of the plan or which segment of TAM's production is planned to be located in Hereford enterprise zone, citing that "details are still being worked out". TAM has not responded to repeated requests for comment either and Get It Group LLC has not yet replied to an email.
According to the UK's Department for Business, Innovation and Skills (BIS) planned two new enterprise campuses in Hereford by TAM and Market-Mats would create "over 1,000 new jobs, over 10 per cent of whom will be apprentices."
"Each of the two advanced manufacturing campuses is expected to create at least 500 high tech manufacturing jobs and once established the sites are predicted to increase local spending power by around £20 million per annum. Furthermore, each campus will have its own apprenticeship training school and at least 10% of the employees will come through the schools at any one time, providing much need employment for the young people in the region," BIS said on August 10.