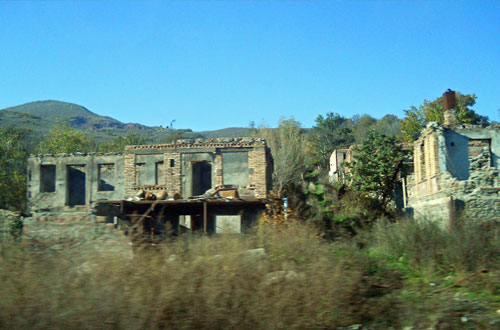 Houses formerly inhabited by ethnic-Georgians in breakaway South Ossetia lie in a state of disrepair after their owners fled during and after the war in 2008. This photo was taken in November 2010, during the last visit of the OSCE High Commissioner on National Minorities Knut Vollebaek to South Ossetia. Photo: OSCE/Kaupo Kand
OSCE High Commissioner on National Minorities Knut Vollebaek called on the de-facto leadership of the Georgian breakaway region of South Ossetia to clarify a statement indicating that it plans to demolish the remnants of villages formerly populated by ethnic-Georgians displaced during and after the 2008 war.
"Such plans, if carried out, would eradicate what little remains of these ethnic-Georgian villages in South Ossetia," Vollebaek said in a statement on August 22. "The houses still belong to the original inhabitants of these villages and they should not be demolished. Under international law, the displaced people have a right to return to their homes and their property should be respected."
"I call on the de-facto leadership and relevant authorities in control of this area to respect the property rights of displaced persons and to fulfill their obligations under international law," he said. "Statements calling for the complete demolition of villages traditionally inhabited by ethnic-Georgians are provocative in this highly volatile region and, if actually carried out, could result in there being no ethnic-Georgians left in South Ossetia."
Vollebaek warned that international humanitarian law prohibits reprisals against civilians and their property.
"Apart from being a potentially criminal act, such a step will certainly constitute an impediment to peace and stability in the region," he said.
Vollebaek also expressed hope to visit South Ossetia in the near future to learn more about the conditions on the ground and to discuss the situation with the leadership in Tskhinvali.
Areas occupied by Georgian villages before the August, 2008, which are now in ruins, will be cleaned up to give way for agriculture and industrial development and never be used as settlements, breakaway South Ossetian leader Leonid Tibilov said, the Russian daily Izvestia reported on August 14.
Several villages close to the breakaway region's capital, Tskhinvali, mainly in its north, were making a Georgian-controlled enclave within South Ossetia before the August, 2008 war. These villages, among them Tamarasheni, Zemo Achabeti, Kvemo Achabeti, Kurta, Kekhvi, were looted and torched during and weeks after the war.
"These territories will not be used for residential development, so there is no need to keep the names [of these villages]; they won't exist as settlements," Tibilov was quoted by the Izvestia.
"I would say, that houses there have not yet been torn down; but we are planning to formalize these territories, where these ruins are remaining, from the legal point of view so that to avoid any questions in our address from anyone tomorrow and day after tomorrow," he said.
"We will be planning cleaning up these villages. Still remaining ruins of course do not look good. On these territories we will be planning to develop some kind of industrial capacities," Tibilov was quoted by the Russian newspaper.
The Georgian Foreign Ministry said in a statement on August 15, that Tibilov's remarks were "latest in the chain of official declarations by the occupation regime during and after the 2008 war, which contain direct admissions of intent to ethnically cleanse the region."
"All responsibility for ethnic cleansing as well as for the acts that pursue an objective of making it irreversible rests with the Russian Federation under the international law. The Tskhinvali region/South Ossetia, together with Abkhazia remain under Russia's illegal military occupation and are governed by the occupation regime," the Georgian Foreign Ministry said and called on the co-chairs of the Geneva talks from EU, OSCE and UN "to urgently raise" the issue in their contacts with Moscow.
According to the Human Rights Watch, after Georgian forces withdrew from South Ossetia on August 10, 2008 South Ossetian militiamen deliberately and systematically destroyed ethnic Georgian villages over a period of weeks.