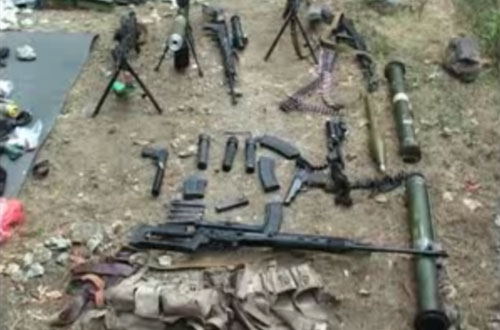 Grab from Interior Ministry's video footage showing arms and ammunition reportedly carried by suspected militants killed in a clash with the Georgian troops on August 29.
Testing Georgia's combat readiness and an attempt to stage a provocation were apparently reasons behind infiltration of militants into Georgia from the North Caucasus, President Saakashvili said on Thursday.
Georgia announced on August 30 that the operation against well-armed group of up to twenty people, some of them Russian citizens from the North Caucasus, was mainly over in northeastern Georgia close to the Dagestan section of the Georgian-Russian border.
3 Georgian special service personnel and 11 suspected Islamist militants died during the clash on August 29, which was the deadliest one in Georgia since the August, 2008 war.
The Georgian Interior Ministry released on August 30 video footage showing dead bodies of several alleged militants in camouflage fatigues with their faces obscured. Anti-tank rocket launchers, assault and sniper rifles, machine guns and ammunition were also shown in the footage.
"Those who have organized it had several tasks," President Saakashvili said during a televised meeting with Interior Minister and Defense Minister in Kvareli, Kakheti region on August 30.
"The one, I think, was to test our combat readiness; since the 2008 [war] our [troops] have not been engaged in combat operation of this scale and I want to say that they [Georgian troops] have a progress and I am very glad about that," he said.
"The second task, I think, was to stage a provocation and I think that they failed in that too," he said, adding that incidents of this kind "directly or indirectly usually serve as a pretext for our country's invader."
Saakashvili also said that killed gunmen should be buried "with observance of their Muslim traditions."
"We are not happy about the death of those who killed our [troops]… Probably they deserved it, but I am not happy about it. We are not Russian troops; we should pay relevant respect to killed [gunmen]," Saakashvili said.
Also on August 30 Saakashvili visited Lapankuri, the village close to the area where the operation against armed group was carried out. Saakashvili told locals in the village that return of those times when gunmen were crossing into Georgia from the North Caucasus and moving freely on the Georgian territory was "in the interests of our enemy, of our invader."
Five local residents of Lapankuri, which is located about twenty kilometers from the Dagestan section of the Georgian-Russian border, were held for couple of days by the militants.
On August 26 five young men from Lapankuri went for feasting in mountain forest about couple of kilometers from their village in a gorge where river Lopota runs from the Caucasus Mountain.
News about missing five men from the village of Lapankuri was first reported in the Georgian media sources in the morning of August 28.
Some news reports at the time suggested, citing local residents, that the young men could have been abducted.
In those reports local residents were cited as saying that few days earlier they had spotted several unknown men in military uniforms in the vicinity of the village.
Several hours later, on the same day, on August 28, Rustavi 2 TV reported in its 3pm news bulletin that all five men were found as a result of search operation in which rescue teams, local police, military police and a helicopter was involved. Rustavi 2 said in that report that the men went missing after "they lost their way".

Before the midnight the Georgian authorities started sending troops to the area and the Interior Ministry announced about the operation aimed at "pursuing" armed group, which was referred to as "squad of saboteurs".
According to some local residents of Lapankuri, on August 28 villagers, who were searching for missing five men, spotted several persons in military uniforms and informed about it the Georgian border guards stationed in the area.
According to this account of events, not too long after that they learned that the five men were freed; they, however, were taken to the police and brought back to their homes late on August 29. They have not spoken with the press. Some locals said that the five men were treated well while being held by the gunmen; it, however, remains unclear what was the motive behind taking the villagers in hostage.
According to the official version of events, the armed group ambushed Georgian border patrol's vehicle and detained several officers, while they were searching for the missing young men. Senior officer offered gunmen to release the villagers and other border guards and to keep only him in hostage, which was accepted by the militants.
According to this official version, an Interior Ministry official arrived to convey the Georgian authorities' message that they would not have allowed movement of an armed group on the Georgian territory and offered gunmen to release a Georgian border guard officer and to launch talks.
The border guard was released, according to the authorities, but after gunmen learned that government wanted them to surrender, militants refused and told the Interior Ministry official that he was now their new hostage. The Interior Ministry official asked the gunmen to go to another location where a mobile network was available to update his superiors about the new developments. The gunmen agreed; escorted by two militants, the Interior Ministry official went to pre-arranged location where an ambush was waiting; one of the gunmen was killed during that shootout; others were killed in a separate firefight, according to the Georgian authorities.
Two Georgian special forces personal, Archil Chokheli and Solomon Tsiklauri, as well as corporal Vladimer Khvedelidze, who served as a doctor with the Defense Ministry's special operations forces, were killed in the clash. Five Georgian servicemen were wounded.

Some opposition politicians said that a thorough investigation was needed into the incident.
"There is not yet enough information to make a comprehensive analysis of what has happened," Irakli Alasania, one of the leaders of the Georgian Dream opposition coalition, told Maestro TV on August 30.
"One thing is clear: our borders are not protected well and an armed group of 20 persons can cross into the country without being detected by the border guard [police]," he said. "A comprehensive investigation needs to be carried out in order to look into who was in charge of negotiations with [the armed group]; what was the subject of negotiations and why was this operation planned in such a way that led to death of so many people."