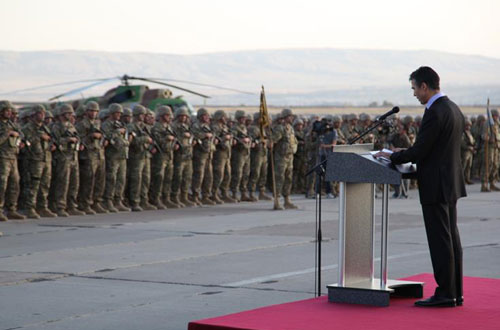 NATO Secretary General, Anders Fogh Rasmussen, addresses Georgian soldiers from 32nd light infantry battalion of the third brigade and 12th light infantry battalion of the first brigade, who will soon be deployed in Afghanistan, September 6. Photo: Georgian MoD.
NATO Secretary General, Anders Fogh Rasmussen, reiterated during his visit in Tbilisi on September 6, that the alliance's door remains open, praised Georgia for its reforms and said upcoming elections would be "a litmus test" for its democracy.
The same messages were delivered by the NATO Secretary General when he visited Georgia in November, 2011.
Speaking at a joint news conference with President Saakashvili, Rasmussen said that Georgia had made "a tremendous progress" on its path of reforms.
"That hard work has brought you closer to NATO membership," he said and called on Georgia "to keep the momentum of democratic reforms."
"The conduct and the run-up to the parliamentary elections this October and presidential elections in 2013 will be a litmus test for Georgian democracy and I trust that all political players in Georgia will play a responsible role in this process," said the NATO Secretary General, who is visiting Tbilisi as part of his trip to South Caucasus countries.
At the press conference Rasmussen was asked about remarks by then Russian President Dmitri Medvedev ten months ago, when he said that the August, 2008 thwarted NATO's plan to expand further on the post-Soviet space. Rasmussen responded: "If the intention of the 2008 conflict was to interfere with NATO decisions on our open door policy, NATO decisions on enlargement, I can assure – that has failed; because no third country has the right to interfere in NATO decisions."
"It's for NATO to decide on our open door policy and we have stated over and over again and reiterated in Chicago that our door remains open," Rasmussen said.
President Saakashvili said that Georgia "is preparing for NATO membership; Georgia will become member of NATO."
"Reforms will continue; struggle for our freedom will continue; Georgia will continue moving on the path of democracy," Saakashvili said.
Saakashvili also said that Rasmussen's visit to Georgia – the fourth one and the third one in his capacity of the NATO Secretary General – was "very important gesture of support for us."
He also said that Rasmussen had traveled to Georgia for so many times that "he deserves to be an honorary Georgian."
"If a Georgian can be NATO Secretary General, then it's really Anders Fogh Rasmussen," Saakashvili added.