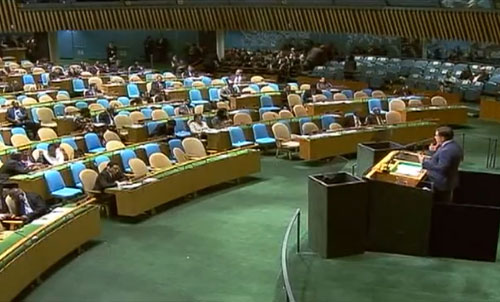 President Saakashvili addresses UN General Assembly, September 25.
Parliamentary elections on October 1 will show that Georgia will not go back into the past regardless of military threats and "dirty money from the North", President Saakashvili said in his address to the UN General Assembly on September 25.
Before addressing upcoming elections, he spoke of prison scandal in Georgia saying that his response to these "sickening" facts was "swift" and did "what democracies must do."
He said that Georgia "confronted the democracy's challenges once again this past week, when evidence emerged of abuses in our prison system."
"The facts were sickening and our responsibility was clear; our reaction was swift and we did what democracies must do – we identified all the responsible, all these responsible were arrested, two government ministers have resigned and we put in charge of the prison system the fiercest critic of the prison system – the human rights defender, the Georgian ombudsman," he said.
"This is how democracies learn; this is how we improve and this is how my own government has overcome errors and challenges in the past to emerge stronger, more effective and even more committed to building institutionalized open society," he said. "Building and maintaining open society entails painful learning and significant risk-taking… These risks are worth taking."
He again raised the issue of prison scandal in his speech when speaking about Russia and about Georgia being "a test case" for the entire region. He said that with its democratic reforms and success Georgia was setting a positive example for the post-Soviet space, but at the same time it was "a very bad example for Russian point of view." He said: "They [the Russian authorities] want Georgia off the map, because if Georgia survives and if Georgia continues then that's a bad example for all the others, including the Russian people itself from the point of view of the present Russian government."
"Even the way how we reacted to prison scandal – and in Russia these things happen almost every day… and nobody gives a damn there about it," Saakashvili said, adding that how Georgia reacted on this scandal, including by firing two minister and arresting dozen of prison officials, sets "a bad example" from the point of view of those who want "to suppress the freedom."
"If Georgia survives and goes forward and advances than the whole post-Soviet space will advance," Saakashvili said.
"Sovietism and post-Sovietism is not a fate; organized crime and violence is not a fate; slavery is not a fate; 'limited sovereignty' as Brezhnev once defined it and Putin reshaped it is not a fate; we are all here free nations… and our future depends on us," he said.
'Externally Generated Security Threats'
He, however, also said that the democracy would prevail in Georgia only if it remained "Georgian process" guarded from "externally generated security threats."
"The European Union Monitoring Mission [EUMM] has just announced, that Russian forces are presently undertaking mass illegal military build-up inside occupied territory, in former territory of South Ossetia, which is within Georgia's internationally recognized borders. As we speak they are bringing offensive weapons and troops inside our borders," Saakashvili said.
He was referring to EUMM's September 21 statement in which the mission said that its monitors "observed a build-up of Russian Federation armed personnel along the South Ossetian Administrative Boundary Line."
Saakashvili then raised the issue of Russia's military exercises, Kavkaz-2012, and said that Moscow had made "an extraordinary decision" to hold these large-scale drills "on the eve and around the time of our elections."
"One cannot imagine a more provocative and irresponsible approach than to mobilize military forces during the crucial moment for any nation's democratic life," he said

"Billions of dollars of Russian money came into Georgia's election campaign; lots of other resources were allocated and now these are the Russian troops trying to be some kind of background players in this process."
"That is why today I call on all of our allies and friends not to ignore and dismiss this worrisome development," he said. "I would like to use this opportunity to ask the world to pay attention… to speak in unified voice against these threats and in support of our sovereignty, democratic institutions."
When asked during U.S. Helsinki Commission hearing on September 20 if Russia's Kavkaz-2012 military exercises were "intended in any way to affect the outcome" of Georgia's elections, U.S. Deputy Assistant Secretary of State, Thomas Melia, who visited Georgia two weeks ago, responded: "My understanding is that the Kavkaz-2012 exercise… has been long planned. We certainly knew about it long ago. In fact, it was planned before the election date [in Georgia] was clarified. You're well familiar with the Georgia-Russia dynamic, but we have also encouraged the Russians… to try to avoid anything that could be interpreted as provocative. We shall see."
Appealing to the international community Saakashvili also said in his UN speech: "Your vigilance and engagement is required to make sure that the history does not repeat itself, that 2012 does not become a repeat of 2008, or especially 1921 when Russia last time ended our independence."
He also said that Georgia maintained "openness towards the great nation of Russia" by introducing visa-free travel rules for the Russian citizens. "One million Russian tourists will come this year from Russia to visit Georgia and they will take back one million stories of successful development of [Georgia]," Saakashvili said.
'Crucial Elections'
Describing the October 1 parliamentary elections as "crucial" Saakashvili said that these polls would be more free and fair then previous ones.
"I came here to tell you that Georgia will remain an open society – this is the choice of our citizens and there is no alternative to this," he said. "Georgia has conducted several elections in recent years all of which were observed by international observers and all of which were free and fair."
"We live in a world where yesterday's accomplishments are never enough and I have committed that this year's vote will be even more free and fair then previous ones."
He said that the Georgian authorities had undertaken "numerous" efforts for this purpose ranging from increasing state funding for political parties and introducing 'must-carry' rules in a pre-election period.
He said that the authorities initiated code of conduct rejecting "political intimidation, use of administrative resource, vote-buying, campaign-related violence… and hate speech."
"Regrettably not all actors in the Georgian political landscape shared these principles and are purposely working to undermine the legitimacy of Georgia's democratic institutions, how they are perceived at home and in the international community," he said.
Saakashvili was apparently referring to Bidzina Ivanishvili-led Georgian Dream opposition coalition's refusal to join the ruling UNM party-proposed code of conduct for political parties; the Georgian Dream, however, joined code of conduct offered by a group of civil society organizations, which among others also includes the points listed by President Saakashvili. The major controversy over the ruling party-proposed code of conduct was about the point which dealt with recognition of election results, wording of which was not acceptable for the Georgian Dream.
"Our response to deliberate attempts to short-circuit our democracy is straightforward – democratic, transparent, rule of law-based process will not be compromised," Saakashvili said.
Citing international observers' interim reports, Saakashvili said that these were the most competitive elections in Georgia's history.
"On October 1, notwithstanding significant attempts to undermine the dynamic, the Georgian people will make its decision and I am confident that the Georgian democracy will prevail and reject those who seek to close Georgia's doors," he said.
Saakashvili said that with these upcoming elections "openness will be further enshrined, transparency will be strengthened and public accountability confirmed."
"The main thing that will be confirmed [is] that Georgia will never go back, it will not be dragged back under any pressure, under any dirty money from the North, under any threat of military exercises and [threat of] direct military invasion in case there are mass disturbances, in case there are some kind of militias emerging and menacing us," Saakashvili said.
"It's not gonna work," he continued. "According to the European Union we are the safest country in Europe; we are the least corrupt country of Europe with strong government institutions; they cannot be bribed and they cannot be undermined."