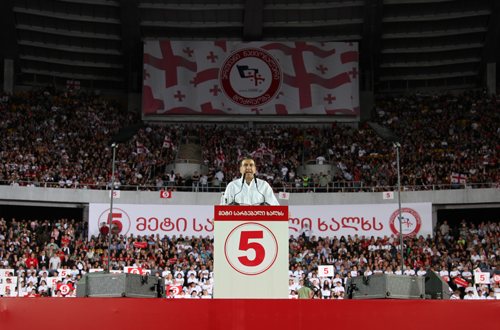 President Saakashvili addresses ruling party's campaign rally at the Dinamo Arena stadium in Tbilisi on September 28. Photo: Guram Muradov/Civil.ge
Parliamentary election on October 1 is not an "ordinary" one as Georgian voters will face "a clear-cut choice between past and future," President Saakashvili said while addressing ruling United National Movement's campaign rally on a football stadium in Tbilisi on September 28.
UNM's rally at the Dinamo Arena football stadium (formerly Boris Paichadze Stadium) came a day before its major rival Bidzina Ivanishvili-led opposition coalition, Georgian Dream, holds its campaign wrap-up outdoor rally in Tbilisi center on September 29.
"In three days Georgia will make the most important choice – the choice, which will define the future of our country, the choice, which will concern each family, each city and each village," Saakashvili said.
"October 1 is equally important for both our statehood and each member of our society. We have never faced such a clear-cut choice before, because October 1 is the choice between the past and the future. On October 1 we should answer a simple question: do we want to go forward or do we want to turn back? Do we want to be free of criminals, thieves, violence or are we ready to put chains on our hands?" he said.
"It's a huge choice and I need your help," Saakashvili said.
"Our country was very far from the European Union and NATO," he said. "We are now as close as never. Is it now time to hesitate and to turn back? No, it is time to go forward."
At the UNM's rally, where part of participants were also ferried from various parts of the country, President Saakashvili also spoke of the prison abuse scandal and said that that what mattered the most was how his government responded to it – arresting more than dozen of prison officials, resignation of ministers of penitentiary and interior and appointing human rights ombudsman as new prison system minister.
"It's not whether it occurs or not that is important; how we respond is important and we responded as mature, European, modern country of 21st century," Saakashvili said.
Among other speakers at the rally was PM Vano Merabishvili, who said that Georgia "still faces the choice between going back into the past and moving forward."
"We know that our enemies want 'thieves-in-law', corrupt officials and criminals to return back to Georgia. Me and our team, we all together, guarantee that 'thieves-in-law' will never be back in Georgia," PM Merabishvili said.