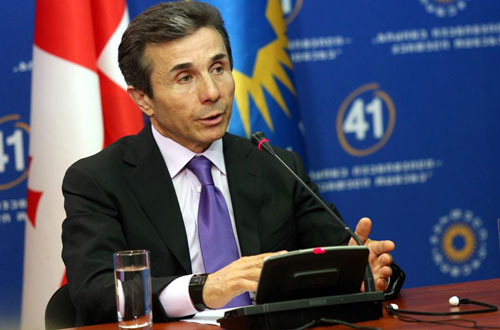 Bidzina Ivanishvili speaks at a news conference in his coalition Georgian Dream's headquarters in Tbilisi on October 2. Ivanishvili's press office photo
Bidzina Ivanishvili, whose six-party Georgian Dream coalition won Monday's parliamentary election and who eyes on prime ministerial post, said on October 2 that President Saakashvili's resignation would be the best way for averting potential crisis which might be caused by, what he called, "sort of a dual power" situation.
He welcomed President Saakashvili's statement conceding his UNM party's defeat in the elections, and said resignation and calling of a snap presidential election would be the President's next "logical" and "right" step.
Saakashvili, whose second and final term in office expires a year later, has to nominate new prime ministerial candidate after the newly elected Parliament is convened.
Power shifts from the presidency to the prime minister's post only after the new constitutional provisions go into effect following the October, 2013 presidential elections, but meanwhile the President retains his strong constitutional powers.

Saakashvili pledged on October 2, that he would contribute to a constitutional process of convening new Parliament and forming new government by the Georgian Dream coalition.
According to early official results of the Monday's elections, Ivanishvili's six-party coalition will secure more than half of the parliamentary seats – enough to endorse a prime ministerial candidate nominated by the President after consultations with parliamentary factions, but falls short of 100 seats required for passing constitutional amendments.
During a news conference, held after Saakashvili admitted his party's defeat, Ivanishvili was asked how he saw things developing for next one year before the expiration of Saakashvili's term in office. "I don't understand it too. That's a difficult question and I don't an answer on that too," Ivanishvili responded.
"That's Saakashvili's 'democracy'. He tailored constitution on himself and placed so many traps there in order to secure power in various circumstances," he said, adding that his team of legal experts was working on these issues, "but they still could not find a solution."

"It may even lead to a crisis, but I think we will be able to avert it," Ivanishvili said. "I think he [Saakashvili] himself will resign."
"He is left without moves; he can't continue [exercising] his powers, he has no chance," he said and told the journalist: "The simplest way to answer your question – and it would be the easiest solution for us too – would be if he makes one more right decision and files for resignation and calls for presidential elections."
"Otherwise it would be a very difficult process," Ivanishvili said and added that conceding defeat in the elections was probably more difficult for Saakashvili rather than to announce about resignation. "So I think he will be able to do that [to resign]."
"Now there is sort of a dual power… So as soon as he resigns and new President is elected with new constitution [going into effect] everything will be put in norm," he said.
Asked if he would seek for Saakashvili's impeachment through parliamentary vote, Ivanishvili responded: "It would be better for me if he himself resigns… Of course there are some other options as well and I do not rule out [impeachment] too, but right now there are no such plans."
Impeachment requires support of at least 100 MPs in 150-member Parliament.