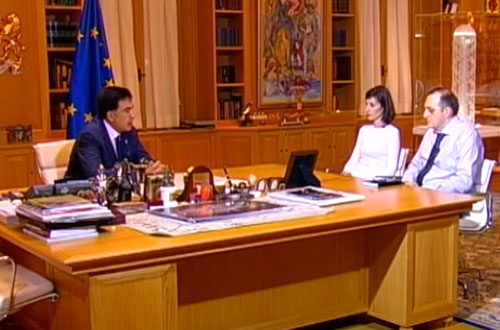 Grab from a video footage showing President Saakashvili meets acting interior minister Eka Zguladze and chief prosecutor Murtaz Zodelava.
President Saakashvili met on October 5 with an acting interior minister Eka Zguladze and chief prosecutor Murtaz Zodelava and told them to be vigilant and prevent rise in crime in a period before handing over authorities to the Georgian Dream coalition, which won the parliamentary elections, defeating President Saakashvili's United National Movement party.
"We are in a transitional period, but we should understand that it is a responsibility of the acting leadership of the Interior Ministry, the police and each employee of prosecutor's office not to allow undermining order in the country. We are no longer in 1990s and if anyone has an illusion that their time has come, I think they are wrong. Talk to each policemen and employee of prosecutor's office; let them work like they have always done and let them establish order. Robberies, burglaries, car thefts and other violent acts should be eradicated like it has always been in recent years," Saakashvili said in televised meeting with Zguladze and Zodelava.
There have been reports of series of robberies in Tbilisi and few other towns of the country in last few days. There were two cases of robberies of branch offices of two banks in a single day. An armed man broke into one of the service centers of the Georgian Bank in Tbilisi, reportedly seizing cash after pointing gun at a teller on October 4. On the same day a man, who witnesses said was not armed, broke into one of the branch offices of ProCredit Bank in another part of Tbilisi and seized money from a teller. Reports said that "small amount of money" was taken by robbers in both of these cases.
"We all respect democracy, we respect the choice of the Georgian people. You [referring to Zguladze] will transfer power to next minister in compliance of rules; the government will transfer responsibility to a new one as the constitution says and that's a huge gain of our democracy," he said.
"But it has nothing to do with and it should not affect citizens' everyday life – that is sacred and untouchable," Saakashvili added.
"We should control strictly to prevent 'thieves-in-law' [criminal bosses] from arriving [in Georgia]; according to the Georgian legislation being a 'thief-in-law' is punishable under the criminal code," he said. "I am sure that under conditions of democracy their ['thieves-in-law'] time will never come."
"We should not let anyone to blow up the situation… it's up to each and every political force with sense of responsible [to prevent it]," Saakashvili said.
"We have acted as a political force with sense of responsibility and we hope that our partners will act likewise," he said.
"Election campaign is now over; there is no time for rhetoric and confrontation," he continued. "We recognized the election results. We all should respect the constitution and all the laws."
He also said that violence against inmates had been eradicated within the penitentiary, but he would speak with new minister for penitentiary system Giorgi Tugushi about the need to prevent any possible disorders in the prison facilities.