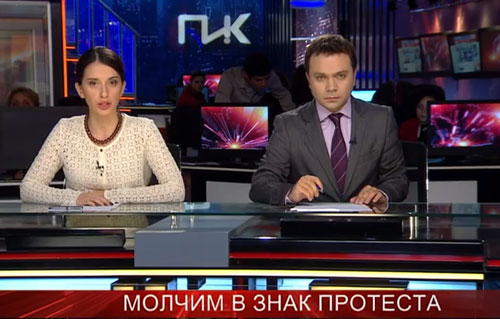 A grab from Kanal PIK's 'silent protest' news bulletin aired on October 15.
The Georgian Public Broadcaster (GPB) and a company in charge of management of GPB's Kanal PIK suspended contract on operations of this Russian-language channel on October 20, five days after the channel's newsroom went on air with an extraordinary silent protest.
Kanal PIK, which was launched in early 2010 to target audience mainly in Russia and in its North Caucasus, is GPB's third channel, but unlike the public broadcaster's first and second channels, the Russian-language channel's management is outsourced to a private firm, TV Company PIK, formerly called Alania LLC.
According to a contract with the managing firm, which should have expired at the end of this year, Kanal PIK's 2012 funding is envisaged at GEL 14 million.
Financial difficulties, reflected in delays to distribute salaries to the channel's staff, emerged last week; in addition, on October 12 the channel suspended broadcasting via Hot Bird satellite through which it was available since early 2011. These developments triggered speculation and suspicions among the staff that funds, originally intended for the operation of the channel, could have been misused; rumors were also swirling about possible shut down of the channel prior to expiration of the contract between GPB and the managing firm.
In an attempt to highlight their concerns, Kanal PIK's journalists staged on October 15 silent protest during the channel's main, late night news bulletin. News presenters were asking questions like "Will the channel be shut down?.. Why have the channel's employees not been paid their salaries?.. Why are not the obligations towards Kanal PIK being fulfilled?.. Where did the money that was supposed to last for a whole year go?"; instead of narrating story on each of this topic, journalists were standing silently in front of TV camera to protest against failure to receive answers from the administration on these issues.
Although since then salaries have apparently been paid and its broadcast restored via satellite, developments surrounding Kanal PIK took a new twist on October 20 when the Georgian Public Broadcaster accused the channel of violating contract provisions and said it was suspending contract in agreement with the managing firm. As it seems the conflict is not between GPB and the managing firm, but between GPB and Kanal PIK's employees.
GPB cited two reasons behind suspension of the contract – silent protest, staged on air by journalists and "unauthorized" restoration of the channel's broadcast via Hot Bird satellite.
"On October 15 part of Kanal PIK's employees willfully and without prior agreement with the leadership of the public broadcaster expressed protest on air… allegedly against delayed salaries," reads the statement released by GPB's General Director, Gia Chanturia, on October 20.
He said that according to the contract with the channel's managing firm, GPB "is an owner of content" aired by the Kanal PIK.
"Using this content by the employees of the TV channel for the purpose of expressing their own claims in internal dispute is categorically inadmissible; it also represents a gross violation of contract provisions," Chanturia said.
"In addition to this unheard demarche, unauthorized relay of [GPB's] third channel's signal was [carried out] via satellite [operator] with which the public broadcaster had its contract terminated. As a result, the public broadcaster may face unforeseen expenditures," he said and added that Kanal PIK's signal was transmitted through another satellite operator upon the GPB's decision; he also said that according to the contract GPB had an exclusive right to choose a satellite operator.
Ekaterina Kotrikadze, news director at Kanal PIK, who was a partner in a firm managing the channel till January 2012, said that allegation voiced by Chanturia was probably a pretext through which GPB wanted to justify shut down of the Kanal PIK.
"If there is a financial problem and [GPB] can no longer fund the channel, we should know why it fails to finance the channel and for that reason we want audit," she said.
Kanal PIK's staff sent on October 20 a written appeal to GPB's board of trustees calling its members to sack Chanturia, arguing that his comments against Kanal PIK's silent protest represented openly "declared censorship".
"You are probably aware about the developments surrounding Kanal PIK recently," the appeal to GPB's board of trustees reads. "This time we will not start disavowing those absurd allegations, which Giorgi Chanturia, the director general of the Georgian Public Broadcaster, has voiced against Kanal PIK, such as unauthorized broadcasting on satellite, because this is the prerogative of lawyers to [discuss]. We will neither raise the issue of vanished budgetary funds, which were envisaged for Kanal PIK under the contract; this is up to the [state] audit service to study and for that purpose we will definitely appeal to [the audit service]."
"The allegations, which Giorgi Chanturia has voiced against us, were absolutely shocking for us, the journalists. In particular, he demands revision of the relations with Kanal PIK citing that the staff of the channel dared and expressed protest on the air and asked absolutely legitimate questions, including about budgetary spending."
"By doing so, Mr. Chanturia directly and openly tries to suppress fundamental human rights, freedom of speech and expression and [he] counters journalist's basic duty to ask a question and carries out openly declared censorship. In any democratic state, statements of this kind by a director general of the public television would have become the reason for a dismissal."
"We have a legitimate right to demand from you to immediately react on this case and express no confidence in the director general of the Georgian Public Broadcaster. Otherwise, we will have a well-grounded reason to think that the opinions expressed by Mr. Chanturia, because of which Kanal PIK has suspended broadcasting, are fully in line with your opinions," the appeal reads.