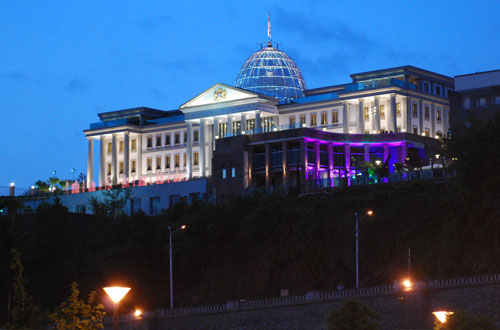 Presidential Palace in Avlabari district of Tbilisi. Civil.ge file photo
As part of "optimization" of public spending, the new government plans to cut, what it calls, inappropriate expenditures in the state budget, among others, also involving funding of glass-domed presidential palace, the National Security Council (NSC) and capital Tbilisi municipality.
PM Bidzina Ivanishvili said on November 2, that maintenance cost of presidential palace was too high and called on President Saakashvili to move out of the glass-domed palace in Avlabari.
Ivanishvili said that the President could take office space in a government building, known as the state chancellery, which also houses PM's office, National Security Council, as well as offices of several state ministries. President's office was located in the state chancellery before it moved to newly built palace in July, 2009.
"We will significantly cut down funding of presidential administration," he told journalists after a session of the government, which discussed draft of the 2013 state budget. "We will not allocate funds, which are aimed for a luxury of one person."
"In a condition when we have so many [internally] displaced persons, so many poor families it is immoral to live in such a palace," Ivanishvili said, adding that the state was spending GEL 800,000 (about USD 480,000) annually to cover presidential palace's electricity bill.
"There was no need to build such a palace at all," Ivanishvili said and added that his cabinet was still trying to find out how much it cost to build the palace.
"So I call on Saakashvili to vacate the palace and let him move here [in the state chancellery]," the Prime Minister said.
President Saakashvili's spokesperson responded that the presidential palace "belongs not to a citizen Mikheil Saakashvili."
"The institute of presidency is part of constitutional system of our country," Manana Manjgaladze, president's spokesperson said on November 2. "Normal functioning of a state institution is part of a democracy in any civilized country. In case of Georgia too – that's the part of the Georgian democracy. Cohabitation of state institutions with differing views is also part of the democracy."
The government said on November 2, that it would also review GEL 800,000 monthly funding, which was allocated for maintenance of one of the two presidential planes. Defense Minister, Irakli Alasania, said that this funding was allocated from Defense Ministry's budget.
PM Ivanishvili also said on November 2, that over GEL 24 million annual funding for the National Security Council was overinflated. He said that spending of more than GEL 21 million out of NSC's GEL 24.7 million annual budget was not transparent.
He said that 2013 state budget would allocate GEL 100 million less for the capital city municipality. 2012 state budget envisaged GEL 445 million transfer from the central budget to the Tbilisi's local budget.
"We will significantly cut transfers from central budget to the city budget. The reason is those unclear projects – like festivities, concerts, which were often funded from the city's budget," Ivanishvili said.