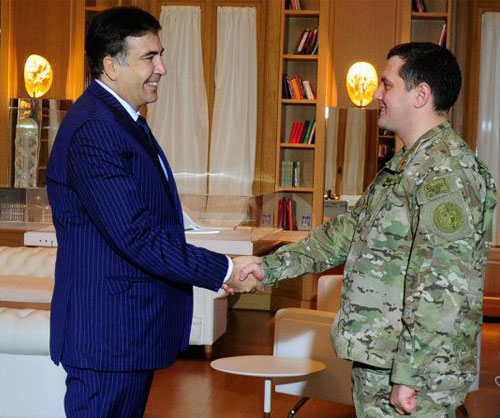 President Saakashvili meets 32-year-old Brigadier-General Giorgi Kalandadze in presidential palace in Tbilisi on November 10. President's administration photo.
President Saakashvili met Chief of Joint Staff of the Armed Forces, Giorgi Kalandadze, who has been charged with abuse of soldiers, and told him to continue performing his duties as army chief of staff.
32-year-old Brigadier General Giorgi Kalandadze, who was released from custody on GEL 20,000 bail pending investigation, was received by Mikheil Saakashvili in the presidential palace in Tbilisi on November 10.
Saakashvili told Brig. Gen. Kalandadze that his arrest was "inadmissible fact".
"I think everyone has to show respect towards our armed forces. No one has the right to infringe on officer's dignity no matter of the rank and especially when it concerns Chief of Joint Staff," Saakashvili said. "Everyone is equal before the law – me, you and everyone, but everything has its form and procedure."
"Armed forces should be beyond any politics and no matter of attempts to play politics [with the army], including through such undignified methods, the army should not be in any way involved in this," the President said.
Saakashvili praised Kalandadze's "heroic actions" during the August, 2008 war with Russia when Kalandadze was a commander of 4th army brigade.

"We should all serve Georgia no matter of political [situation] and no matter of propaganda attacks against you; it is the matter of dignity of the Armed Forces to continue functioning as usually; we are not in an easy geopolitical situation and the worst thing that may happen is functional failure of our armed forces. In recent years we have done a lot; we have constructed defensive fortification line around Tbilisi, which the people have not seen and it will be good if television channels show it now how protected the capital city is unlike 2008 and to see the scale of engineering works you have done… in order to be ready for [repelling] attacks," Saakashvili said and added that "much has been done in the army to strengthen discipline."
"Therefore, as a commander-in-chief, I task you with continuing to perform your duties in the capacity of Chief of Joint Staff of the Georgian Armed Forces," Saakashvili told Brig. Gen. Kalandadze.
"We should forget this incident and leave it in the past," Saakashvili said. "We should serve Georgia, regardless of who says what and regardless of political [situation]."
"Leave all these in the past, go back to the Joint Staff [Headquarters] and continue your service for Georgia like you have been serving throughout all these years," he added.
Kalandadze was appointed by President Saakashvili as Chief of Joint Staff a week after the October 1 parliamentary elections. New Defense Minister, Irakli Alasania, who was confirmed on the post together with new cabinet on October 25, said on November 2 that consultations were ongoing with the President's office on Kalandadze's replacement.
President Saakashvili's United National Movement (UNM) party claims that Kalandadze's arrest was politically motivated as new Defense Minister failed to replace Kalandadze with his loyal figure.
Kalandadze was arrested on charges involving alleged abuse of soldiers in October, 2011 when he was deputy chief of army staff. Former commander of 4th brigade of the armed forces, Zurab Shamatava, and former defense minister Bacho Akhalaia were also arrested in connection to the same case, although Akhalaia faces other charges as well.
Kalandadze was arrested in the Ministry of Defense at dawn on November 7 personally by new Justice Minister Tea Tsulukiani, who says that the arrest was carried out fully in line with procedures and in a way not to infringe on officer's dignity.
Tsulukiani said in an interview with Channel 9 on November 9 that Kalandadze's past deeds as a military commander should not be a reason for turning a blind eye on alleged wrongdoings committed by Kalandadze against soldiers.
"General Kalandadze has fought against the enemy of our country," Tsulukiani said. "But at the same time, this is a person who under the instructions of Bacho Akhalaia was systematically insulting dignity of soldiers; this is a person who, according to testimonies of victims, was allegedly beating soldiers."
A decision by NATO Military Committee to reschedule its visit to Georgia further fueled controversy over Kalandadze's detention with UNM claiming that this arrest damaged the country's NATO integration.
"If the General was protecting the country in 2008 war, soldiers too were protecting the country and dignity of these soldiers was insulted by then Defense Minister Bacho Akhalaia and chief of army staff [Kalandadze]… Such General and Defense Minister, I think, were not leading country towards the NATO," Justice Minister, Tea Tsulukiani, said.
Tbilisi City Court ordered on November 9 to release Kalandadze and former commander of 4th army brigade, Zurab Shamatava, on GEL 20,000 bail each, but remanded Akhalaia in pre-trial detention pending investigation.
Akhalaia has been placed in Gldani prison No.8 in Tbilisi – the facility, which was in the center of prison abuse scandal in September, 2012, when shocking videos of inmates' torture emerged. Akhalaia, who at the time was interior minister, had to resign amid protests against the prison abuse.
Preliminary court hearing into the charges brought against the three men is scheduled for December 25.
All three men have been charged with exceeding official powers into the case of alleged abuse of soldiers.
In addition, Akhalaia also faces charges of illegal confinement, involving a separate case in which Kalandadze was allegedly also involved; Kalandadze, however, has not yet been charged in connection to this case, which involves allegations that Akhalaia and Kalandadze beaten a man and then illegally held him for several hours in September, 2011.