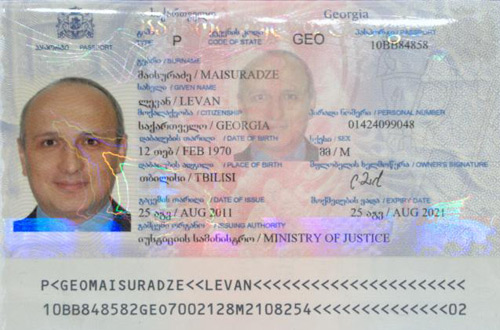 The Interior Ministry released this photo of what it says is a fake passport which former PM and ex-interior minister Vano Merabishvili allegedly tried to use for visiting Yerevan on November 30.
The Interior Ministry said on December 1 that it would summon and question secretary general of UNM party and former PM Vano Merabishvili for allegedly using fake passport.
Merabishvili, who was the Interior Minister for more than seven years, responded that "absurdities are reaching completely new levels" under the new government.
Merabishvili accompanied President Saakashvili in Yerevan on November 30 to participate in a summit of European People's Party (EPP) Eastern Partnership leaders. President Saakashvili's UNM party is an observer member of EPP.
"On November 30 former Prime Minister Ivane [Vano] Merabishvili arrived in the Tbilisi international airport as a member of the state delegation heading to Yerevan. During a passport control, an employee of the presidential protocol service presented to a border officer Ivane Merabishvili's passport. A border officer… has found that the passport with a photo of Ivane Merabishvili was in fact issued on the name of Levan Maisuradze," the Interior Ministry said in a statement on December 1.
The Interior Ministry also posted on its website a snapshot of the passport in question, showing Merabishvili's photo and holder's name "Levan Maisuradze".
"Investigation was launched into the case of use of fake document and an attempt to cross the state border illegally," the Interior Ministry said.
"In order not to hinder the state visit and in order not to create problems for the delegation, no legal proceedings were immediately launched against Merabishvili and he was allowed to present an authentic passport. On the same day [on November 30] Merabishvili returned back [to Tbilisi] at 11:00pm and left the airport in a presidential motorcade and for that reason it was not possible to carry out legally defined investigative procedures," the Interior Ministry said.
"Merabishvili will be summoned and questioned in connection to this case today [December 1]," it added.
Following the Interior Ministry's statement Merabishvili convened a press conference in UNM headquarters in Tbilisi and said: "This [new] government is in power for already two months and absurdities are reaching completely new levels."
"These authorities are seriously trying to convince the society that last evening I was going to leave for Yerevan together with the President's delegation with a fake passport to attend the European People's Party Summit, where we had planned meetings with President of the European Commission Jose Manuel Barroso, EPP's President [Wilfried] Martens, Armenian President, Moldovan Prime Minister," Merabishvili said.
"I understand and we all know that the authorities plan to intimidate and arrest everyone. But what they have said today [about alleged fake passport] goes beyond any limits," he added.
UNM has denied the Interior Ministry's claims that Merabishvili used presidential motorcade to leave the airport upon return to Tbilisi. UNM MP Irma Nadirashvili said that police was able to ask questions Merabishvili upon his arrival in Tbilisi, but did not do it.
"We think that the police just needed some time to stage this absurd show and to agree its script with chief scriptwriter [PM] Bidzina Ivanishvili," MP Nadirashvili said.