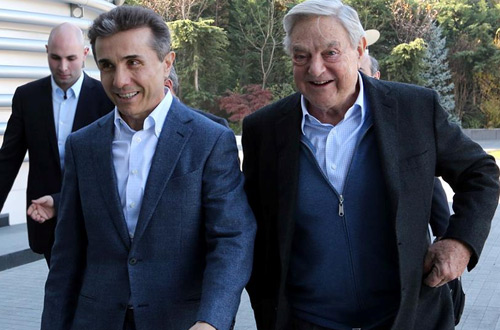 Bidzina Ivanishvili (left) and George Soros (right) before the meeting in Tbilisi, December 1. Photo: Georgian PM's press office.
Billionaire investor and philanthropist George Soros, who is visiting Tbilisi, met Georgia's PM Bidzina Ivanishvili in latter's residence on Saturday.
The two billionaires met in Ivanishvili's hilltop "business center" in Tbilisi.
Parliamentary chairman Davit Usupashvili was also present at the meeting.
The previous time Soros visited Georgia was in May, 2005
"Bidzina Ivanishvili and George Soros have talked about improvement of the investment climate in Georgia. Meetings with world leading business circles on a sideline of [the World Economic Forum annual] meeting in Davos has been planned; the Georgian PM will be attending the forum [in late January]," Ivanishvili's press office said in a statement after the meeting.

Open Society Georgia Foundation (OSGF), a member of Soros' network of Open Society Foundations, said that Soros was in Georgia for a private visit to familiarize with the work of OSGF.
"With a purpose of familiarizing with a new political reality [in Georgia after the October parliamentary elections], it is not ruled out that George Soros will also meet political leaders," OSGF said in a statement prior to Soros' visit on November 28.
In the same statement OSGF had to respond to recent rumors in some of the Georgian press that Soros was planning to fund President Saakashvili's UNM party.
"George Soros and Open Society Georgia Foundation do not fund political parties and their activities in Georgia," OSGF said.