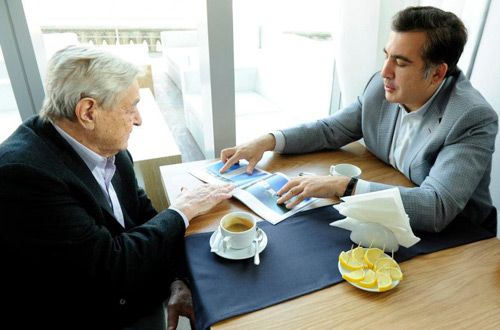 George Soros (left) and President Saakashvili (right) in the Public Service Hall in Tbilisi, December 2. Photo: President's administration
After meeting PM Bidzina Ivanishvili a day earlier, billionaire investor and philanthropist George Soros met President Saakashvili in Tbilisi December 2.
President Saakashvili and George Soros visited Public Service Hall – one-stop shops where citizen can get multiple services from various state agencies under the single roof which has been one of the staples of President Saakashvili's modernization and reform agenda.
"The guest together with the President toured the service areas [of the Public Service Hall]… Mikheil Saakashvili and George Soros received services at Just Café [an area where citizens can sip coffee while getting help from Public Service Hall employees to fill in official forms for various documents]… The guest also took a symbolic [Georgian] passport," the President's administration said in a press release.