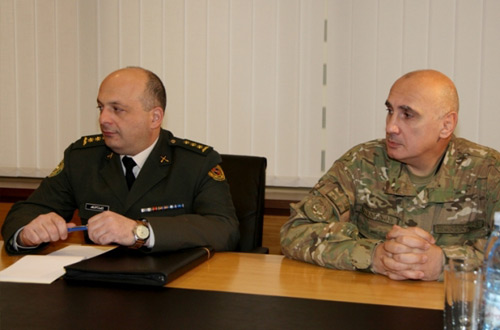 Col. Irakli Dzneladze (left), who is slated to become Chief of Joint Staff of the Armed Forces, and Brig. Gen. Vakhtang Kapanadze (right), the first deputy chief of army staff, at a meeting with Defense Minister Irakli Alasania, December 4. Photo: MoD.
Colonel Irakli Dzneladze has been named as new Chief of Joint Staff of the Georgian Armed forces.
According to the Ministry of Defense (MoD) the nomination was made in prior agreement with President Saakashvili, who has now to confirm the nomination.
Col. Dzneladze's predecessor 32-year-old brigadier general Giorgi Kalandadze was suspended from office upon the court's decision on November 11, about one month after President Saakashvili appointed him as army chief of staff shortly after the parliamentary elections. Brig. Gen. Kalandadze, who was released from police custody, faces criminal charges related to exceeding official powers into two separate cases and illegal confinement.
With twenty years of military service, Col. Dzneladze has most recently served as Georgia's military attaché in Ukraine and prior that that he served in J3 operations planning and in the command of the land forces, according to MoD.
Defense Minister, Irakli Alasania, said on December 4, that he instructed Col. Dzneladze to "immediacy" launch arranging a visit of the NATO Military Committee to Georgia. The NATO Military Committee, which was originally scheduled to visit Georgia in November, postponed the visit after former army chief of staff Kalandadze was arrested.