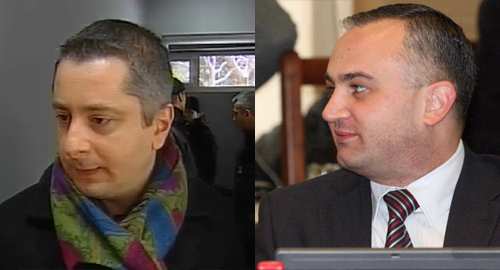 Compilation of two images with left one showing Nika Gvaramia, director general of Rustavi 2 and former government member, when he arrived for questioning at the investigations service of the Ministry of Finance on December 19, and right one is a file photo of Alexander Khetaguri, former energy minister.
Former energy and finance minister Alexander Khetaguri and Nika Gvaramia, who is now director general of Rustavi 2 TV and was a government member till late 2009, as well as four other persons have been arrested for alleged corruption, official said on Wednesday evening.
Among those arrested is Devi Kandelaki, chief executive officer of Telasi, an electricity distributor company in Tbilisi in which 75% of shares are owned by Russia's state-controlled power trader Inter RAO.
A partner at a business consulting firm GDC Solutions, Kakha Damenia, who was deputy economy minister in 2005-2008, is also among those arrested. Another partner at the same company, Bela Gutidze, is also arrested.
They have been arrested after lengthy questioning in the investigations unit of the Ministry of Finance.
The investigations unit at the Ministry of Finance has claimed that in summer, 2012 then energy minister Alexander Khetaguri entered into a corrupt deal with Telasi through which the electricity distributor in the capital city and three of its daughter companies were able to evade "paying tens of millions of Lari in taxes" in exchange of paying USD 1 million.
According to MoF's investigations service, then energy minister Khetaguri was approached by Vadim Mityushin, a representative of Inter RAO, the Russian power trader which owns Telasi, and offered to strike an agreement with the state to prevent tax scrutiny of Telasi and three of its power generation companies – Khramhesi 1; Khramhesi 2 and Mtkvari Energy.
The Georgian authorities have claimed that Devi Kandelaki, who at the time was CEO of Telasi's daughter companies Khramhesi 1, Khramhesi 2 and Mtkvari Energy, was involved in "this illegal negotiations", who "offered Alexander Khetaguri USD 1 million as a bribe in exchange of securing the state consent on launching talks on tax agreement."
"Khetaguri accepted this proposal," MoF's investigations service said in a statement.
It said that Khetaguri asked his associate Nika Gvaramia, who was deputy chief prosecutor in 2007, Justice Minister in 2008 and education minister till late 2009, to engage in talks with Kandelaki and elaborate a scheme to receive USD 1 million.
Gvaramia became chief executive of one of the leading Georgian television stations, Rustavi 2, in mid-November.
The authorities have claimed that Gvaramia asked his friend Giorgi Nemsitsveridze to register a shell company, Elendef Service, which became a recipient of USD 1 million from Telasi and its daughter companies under a sham deal as if in exchange for providing consultancy. The authorities have claimed that Nemsitsveridze withdrew funds on August 30, 2012 and handed them over to Nika Gvaramia. Nemsitsveridze has also been arrested.
Alexander Khetaguri, who was energy minister for about five years, became finance minister in mid-August and served on the post before the new government took office after the October parliamentary elections.
The investigations service of the MoF also alleged that Gvaramia asked his friend Kakha Damenia, a partner at GDC Solutions, to get involved in the scheme by striking contract with Elendef Service and to act as a sham sub-contractor in providing consultancy to Telasi and its daughter companies.
Inter RAO's representative in Moscow, Anton Nazarov, told Reuters USD 1 million was paid legitimately to consulting firms which were to check the companies in order for Inter RAO to prepare a tax agreement with Georgian government.
Lawmakers from the UNM party have condemned Gvaramia's arrest as a pressure on independent television and President Saakashvili demanded "immediate release" of Gvaramia.
Gvaramia's lawyer, Mamuka Tchabashvili, told journalists late on December 19 that his client was innocent and believed that he was arrested just because of being director of Rustavi 2 television station.
In a statement the staff of Rustavi 2 called on the law enforcement agencies not to request the court pretrial detention for Gvaramia. "Otherwise this arrest will be perceived as an attempt to mount pressure on Rustavi 2 TV," the statement reads.
Also on December 19 the investigations service of the Ministry of Finance released several audio tapes of phone conversations between Gvaramia and former PM Vano Merabishvili, who is now UNM secretary general, as well as between Khetaguri and Kandelaki and others. The ministry has also released two court orders, dated with November 10 and November 12, authorizing phone tapping of Nemsitsveridze and Damenia.