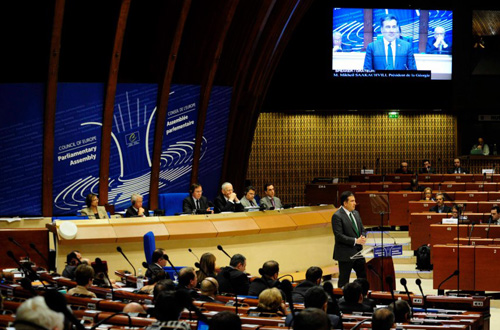 President Saakashvili addresses Parliamentary Assembly of Council of Europe (PACE) in Strasbourg, January 21. Photo: President's administration
President Saakashvili addressed the Parliamentary Assembly of Council of Europe (PACE) in Strasbourg on January 21 and strongly criticized PM Bidzina Ivanishvili and his government on the one hand for, as he put it, "menacing" his UNM party which is now in the opposition and on the other hand for, what he called was, "de factor giving up" Georgia's NATO aspiration.
In his speech and then during question and answer session with lawmakers from the Council of Europe member states, Saakashvili also slammed Russia for its "imperial ambitions" and occupation of Georgia's breakaway regions of Abkhazia and South Ossetia.
Saakashvili said in his address that PM Bidzina Ivanishvili and his Georgian Dream coalition were suffering from "winner-takes-it-all mentality" and accused the new government of applying "selective justice" and targeting former government officials, UNM lawmakers, local authorities, judiciary and media. He said that the new authorities were pursuing the "campaign to silence political opposition" and accused the government of attempts to get constitutional majority in the Parliament through "direct blackmails" against UNM lawmakers pressuring them to switch sides. He also accused the government of pressuring Georgian Public Broadcaster (GPB) and claimed that the government "pushed the director of GPB to resign".
Saakashvili, however, also said that there was still room for "a fruitful cohabitation" and mentioned his five-point plan, which he offered to the new government in his New Year's address to the nation as a basis for cooperation.
"This is my solemn pledge: let us work together to improve what can be improved in our democracy, let us focus on the principles on which we can agree on, the very principles that are at the basis of the Council of Europe," he said. "Nobody has the interest in the failure of the new government, because this failure would hurt the country in general."
Saakashvili said that recognition of October 1 parliamentary election results without delay was one of his best political decisions; he said that after the elections the Georgian Dream was able to form its government without any meddling from the President despite the fact that under the constitution he had power to prevent it; he suggested that as the President he tried to play the role of "a neutral arbiter."
"Unfortunately some of the events that unfolded later [after the October elections] made this kind of neutral arbiter's role much more difficult to enforce because very foundation of the constitutional system came under attack" by the Georgian Dream, Saakashvili said
'De Facto Giving Up NATO Aspiration'
Saakashvili said that there were "alarming" signs of Georgia's new government making a shift in country's foreign policy.
He cited PM Ivanishvili's remarks during the latter's visit to Yerevan this month when he said that Armenia was "an example" for Georgia how it is possible to have good relations with both NATO and Russia.
"It's important to understand: Georgia has chosen to pursue the NATO membership and Armenia, for its own reasons, did not," Saakashvili said. "By what the PM said few days ago, unfortunately, changes whole things we've been saying for all these years – he de factor gave up Georgia's NATO aspiration. That's what it means [this] declaration [of PM Ivanishvili]."
"That's not the Georgian people has voted for. I hope that we can get better explanation and correction of this very alarming declaration," he added.
Saakashvili also said that PM's statement in Yerevan, combined with his earlier remarks questioning economic viability of Baku-Akhalkalaki-Kars railway (PM Ivanishvili also said the project was important and should be implemented) and at the same time promoting reopening of railway between Georgia and Russia via breakaway Abkhazia "means changing strategic orientation and basically disconnecting us with the European strategic lines."
Saakashvili also said that releasing from jails as a result of amnesty people, who were convicted for spying for Russia under the previous authorities, "raises concerns too."
During the question and answer session a Georgian Dream lawmaker Tedo Japaridze, who leads the Georgian delegation to PACE, asked the President: "Do you seriously think that current Georgian government is surrendering to Russia or saying no to our European aspirations? And if so, why and what are the facts on the ground?"
Saakashvili responded that his position on this issue was based on what he was hearing from the new government, including PM Ivanishvili.
"I've also heard that Georgia should stop [being] a problem in relations between the West and Russia – I fully agree with that, but the way you [referring to Georgian Dream] put it is that we should stop being a problem without problems being actually solved and if we stop being a problem without problems being actually solved it might also mean that Georgia might stop to exist as such," Saakashvili said.
"So there are certain things that make us think that things are moving not in a right way… I hope I am wrong, I really hope I am," he said.
'Russia Should Get Rid of Imperial Ambitions'
When one Russian lawmaker asked Saakashvili that it was unclear for him why he was criticizing PM Ivanishvili for trying to find way out of deadlock in Russian-Georgian relations which was created under his presidency, Saakashvili responded in Russian: "You have one problem; when you speak about Russian-Georgian relations you see one map of Georgia and I see another one. With all due respect, you need eyeglasses to see a genuine map and I can see what actually is – the map of Georgia, which we have inherited and which is recognized by the international community."
"No matter how much you run around the world and to Tuvalu [one of those few countries, which recognized Abkhazia and South Ossetia], it won't change [anything]. You can get recognition [of Abkhazia and South Ossetia] from Tuvalu and Nauru, but it won't change anything including in this chamber [referring to PACE],"
"You know that there are number of countries [whose leaders] would not have even responded you in Russian, because they have allergy on the Russian language. I once told Putin that probably I am the last Georgian leader who can speak in Russian with him… I speak Russian much better than [Georgia's] current Prime Minister; at least in this I was right," Saakashvili said smiling.
He also said that Russia "bribed couple of small island-nations" like Nauru and Tuvalu" in order to get recognition of Abkhazia and South Ossetia.
"The great nation of Russia, after long discussions with island-nation of Tuvalu, made big diplomatic breakthrough and finally somebody else recognized [Abkhazia]," Saakashvili said sarcastically and added looking in direction of the Russian delegation in the chamber: "Congratulations Russian friends, so great for you. But I think it's really a shame frankly."
"Russia should get rid of imperial ambitions," he said. "Our borders lie on Psou [river in Abkhazia] and Roki tunnel [in South Ossetia] – that's the only lesson in geography I want you to have from me."
When another Russian lawmaker asked Saakashvili about "massive violations of human rights" in Georgia during his presidency, Saakashvili responded: "I am very happy that our Russian neighbors have suddenly taken a very keen interest of human rights, democracy and freedom of individuals."
"I really hope that you will also practice it on daily basis in your wonderful, great country and of course we would very much welcome Russia that on daily basis respects individuals and their rights," Saakashvili added.
He said that Georgia had always listened very carefully to criticism from international organizations. "We always welcomed it; sometimes we agreed or disagreed with it, but we always listened to it," Saakashvili said and added that Georgia became "the safest country in Europe – with five times less crime rate by the way then in Russia."