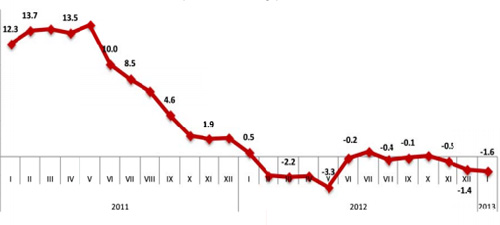 Annual inflation between January, 2011 and January, 2013. Source: Geostat
Annual inflation remained in negative territory, declining to -1.6% in January from -1.4% in December, according to the Georgian state statistics office Geostat.
On monthly basis prices increased by 0.3% in January.
Prices on food and non-alcoholic beverages were down by 2.7% y/y in January and there was a 6.5% y/y decline in prices in housing, water, electricity, gas and other fuels. Transportation prices decreased by 0.5%.
Prices on healthcare services increased 2.7% y/y and prices on hotels and restaurants went up by 3.1% in January, according to Geostat.