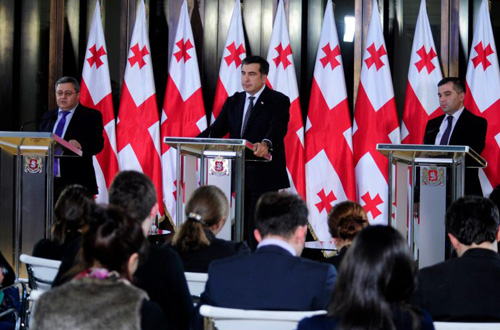 From left to right: Parliamentary Chairman Davit Usupashvili; President Mikheil Saakashvili and leader of UNM parliamentary minority group Davit Bakradze during a joint press conference after meeting in the presidential palace on February 11. Photo: president's press office.
No agreement has yet been achieved, but the dialogue will continue, President Saakashvili and Parliamentary Chairman Davit Usupashvili said during a twenty-minute long joint press conference, which saw verbal exchanges between the two on several occasions.
Constitutional amendments, pushed by the Georgian Dream coalition, to limit presidential powers in respect of sacking the sitting government and appointing new one without Parliament's approval, was among the issues discussed during the meeting which lasted slightly over one hour in the presidential palace late on Monday evening.
Leader of UNM parliamentary minority group Davit Bakradze was also present.
President Saakashvili was the first to speak during the news conference after the meeting. He started his opening remarks by describing the meeting as "business-like" and then said that he was "extremely concerned" about violence that broke out at the National Library in Tbilisi on February 8 when protest rally forced him to change the venue of his speech and during which several UNM lawmakers were assaulted.
He then said that it was "a massive execution of the Georgian opposition leadership by gang of criminals, not by people, but by gang of criminals, who were released from jails."
Some of the participants of the protest outside the National Library were former inmates who were released as a result of amnesty after the Parliament recognized them as political prisoners. The amnesty bill was signed into law by Usupashvili after the Parliament overturned presidential veto.
"But I think we are all interested in not reoccurring of such cases; we are interested in moving discussions inside the Parliament," Saakashvili continued. "There is a half step from street fights on political issues to large-scale catastrophe and we should never reach the verge where Georgia was in 1990s – that was our principle view. I think that batoni [a Georgian polite form of addressing a man] Davit shares our concern. That's why today we had an extensive conversation."
"I cannot say that we have agreed on everything they have their position, we have ours, and I think that discussions will continue," Saakashvili said and added that the most important was that the parties agreed to continue dialogue.
He said that "talks will probably continue in next few days" after the both the sides would discuss the issues, raised during the Monday's meeting, within their respective political teams.
Davit Usupashvili, the parliamentary speaker, was the next to speak at the news conference, also starting his opening remarks by describing the meeting as "business-like", but then responded to Saakashvili's comments on the February 8 incident and said: "Of course we have not talked about what Mr. President has mentioned in the start [of his remarks]. Of course we disagree and won't agree on this issue. I am sure that [the amnesty] act, which I signed, granted freedom to political [prisoners]. I have not seen gang of criminals outside the National Library; there were people who were expressing their protest and while expressing their protest they violated the law and any wrongdoer should be punished."

"What we agree on is that such events will not contribute [positively] to the country no matter who planned, organized or provoked it. So it is right to move all the political processes within the Parliament," Usupashvili said.
On the meeting itself, Usupashvili said: "We have not yet come to an agreement, but I have an impression that this dialogue is not without prospects and it [the dialogue] is not just a PR move either from us or from the President."
"The Georgian Dream reiterates – and it was stated to Mr. President, that an agreement on the concrete issue of presidential powers in respect of formation of government is a key for achieving agreements on all the other issues," Usupashvili said.
"I will not and cannot speak about the details, but during our conversation some possible new schemes or options have emerged so we have to think about these issues," Usupashvili said and added that the next meeting would probably be held in few days.
"There is no agreement, but the process is not without prospects," he added.
Then spoke Davit Bakradze, the leader of UNM parliamentary minority group, who also said that the meeting was "business-like" and "good" and stressed on the issues, which UNM is pushing for, among them, as he put it, "not to take decisions on constitutional matters through exerting pressure on lawmakers"; keeping Parliament's location in Kutaisi and not to relocate it back to capital Tbilisi; keeping of the existing rule of direct election of president. This latter issue has not been initiated, although some GD MPs have voiced an idea about possibility to make president's post indirectly elected.
After Bakradze, President Saakashvili said that to put it simply the issue, pushed by the GD was about "presidential powers on pre-term dismissal of the government"; he, however, was interrupted at that point by Usupashvili who told the President: "No, it's about [limiting presidential powers] to unilaterally form the government."
Saakashvili then continued that the issue about presidential "powers as envisaged by the constitution" was a short-term issue; while issues pushed by his UNM party, related to keeping the Parliament's location in Kutaisi, providing constitutional guarantees for keeping Georgia's pro-Western foreign policy course and keeping direct election of president were long-term issues.
"We are concerned over the issues which are about country's long-term development. The government is concerned about what will happen in next few months – we are ready to remove [government's concerns], but we are interested in what will happen in many years from now," Saakashvili said.
Asked during the press conference whether PM Bidzina Ivanishvili would engage in this dialogue with the President, Usupashvili responded that the PM would engage in the talks personally depending on how the process develops and if needed Ivanishvili too would take part in the meeting with the President. He also said that most of the issues discussed during the Monday's meeting with President, were those that required decisions within the Parliament and that's why the meeting had this format in which Bakradze was also participating. While responding to this question, Usupashvili also said that the GD coalition was concerned both on long and short-term issues. "Deciding incorrectly short-term issues will distance us from achieving long-term goals," he said.
Responding to this question, President Saakashvili said that Georgia's continuation was similar to the French constitution according to which, Saakashvili said, the Prime Minister has to visit at least once the President.
Saakashvili said that what happened on February 8 outside the National Library when "criminals – you may consider them political prisoners" attack parliamentary opposition members it was sign of "emergency situation".
Referring to the Interior Ministry's allegation that the Special State Protection Service (SSPS) in charge of providing security to the President failed to cooperate with the police to help provide necessary security measures outside the National Library, Saakashvili said that there was no country on earth where presidential security was in charge of providing order on the street.
When saying it, Saakashvili was interrupted by Usupashvili: "Batono Mikheil, are we gathered here were for this? Let's speak about the issue for which we are gathered. I also have my views about these issues."
"I am talking about the issues that are source of concern for the people," Saakashvili responded and continued that the February 8 incident was serious enough requiring from the PM to arrive for a meeting with the President.
"Are you saying that the Prime Minister should have come here [for this meeting]?" Usupashvili asked the President.
"I hope he will come in the future," Saakashvili responded, followed by Usupashvili remark: "Yes of course."
"There is an emergency situation in the country," Saakashvili continued. "On the one hand there is an attempt in the Parliament to seize constitutional majority through illegal means; on the other hand there is a persecution of the opposition in the street and thirdly, country's international standing is weakening very much from all these developments. You know it very well batono Davit that with all these developments Georgia looks like third world country… So these are the issues which the Prime Minister should allow himself to be involved in."
When Rustavi 2 TV asked about the Parliament's "ultimatum" that the President's annual state of the nation address would take place in the Parliament only in case of an agreement over GD-proposed constitutional amendments, President Saakashvili again raised the issue of what UNM says is pressure on its lawmakers allegedly exerted by the new authorities with the purpose to switch sides and to vote for GD-proposed constitutional changes.
But Saakashvili was again interrupted by Usupashvili who told him: "I think the question was asked about something else, but we can talks about it if you want."
"I am just stating the facts," Saakashvili responded.
"Let's answer to a question that has been asked," the Parliamentary Chairman told the President.
"Blackmailing of lawmakers is underway with the use of mafia methods," Saakashvili continued.
"Batono Mikheil, if we are in TV debates, I am ready for that," Usupashvili told him.
Saakashvili continued that the new government was "twisting parliamentarians' arms" to force them to vote for the constitutional changes. He then said that he would arrive in the Parliament for the annual state of the nation address which is located in Kutaisi. "For me the Parliament is located only in Kutaisi; as soon as the issue of Parliament's relocation is raised, it will be illegal constitutional overthrow," Saakashvili said and added that the one path was achieving agreement through talks and consensus and "we are ready for that" and the second was "the patch of twisting arms".
"We have not set any ultimatum," Usupashvili responded. "We said that we would listen [to President's address in the Parliament] after taking decision on this issue [of constitutional amendment on presidential powers]. We did not say what kind of decision it should be, so we are not blackmailing with this issue anyone."
As far as Parliament's location is concerned, Usupashvili said: "Of course we are waiting for you in Kutaisi, Mr. President. In November or December [2013], when the Parliament might be relocated, you no longer be the President."
"That's really a good news," Saakashvili told Usupashvili. "So at least till November you are keeping the Parliament in Kutaisi."
"You destroyed the Parliament's [old] building in Tbilisi so much that it will require six months to [renovate it]," Usupashvili responded.
"I will not engage in debates with Mikheil Saakashvili over all the issue, although why not if he wants. We could have talked about many issues – about February 8 [events outside the National Library], about May 26 [2011] and November 7 [2007 when police broke up protests], but we gathered here in order to define tomorrow," Usupashvili said and added that Monday's meeting showed "prospects for the possibility of taking right decisions."
"I'd like decisions to be taken, which will calm the country and foster its progress," Usupashvili said.
"Exactly," Saakashvili responded. "That's where we are too. We should be focused on the future. What we are talking about is present – what happened [on February 8] is present and what's happening with lawmakers is a present too… that's the present which may pose threat to tomorrow and we should put an end to it."
"The only way is a public dialogue without behind-the-scenes deals. We should continue the dialogue," Saakashvili said.
"We argue less behind the closed doors, but of course we want to defend our positions when we see journalists. Anyway I think that it's a productive discussion," Saakashvili said.
Before the press conference was wrapped up, Usupashvili said: "Mr. President is a host today so the last word is up to him; I will speak more when he comes to the Parliament."