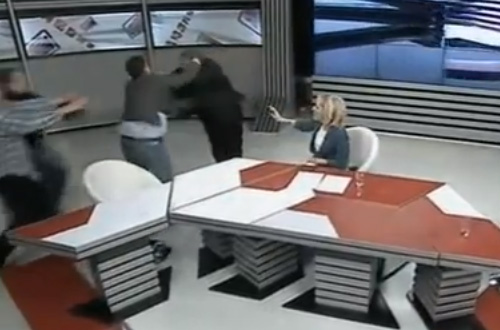 Screengrab from Maestro TV footage showing two lawmakers scuffling as TV staff rush into the studio to separate the two men.
A live television debate between UNM and Georgian Dream (GD) lawmakers ended in a brawl on Wednesday evening.
GD MP Koba Davitashvili and UNM MP Sergo Ratiani were discussing at Maestro TV's political talk show, Arguments, the February 8 incident outside the National Library in which MP Ratiani was one of those UNM lawmakers who were assaulted by protesters.
During the debates MP Davitashvili, who was criticizing police for their failure to prevent the February 8 incident, was putting blame for what had happed outside the National Library on UNM lawmakers, saying that the latter provoked the incident.
When MP Ratiani said that Davitashvili, and GD in general, was trying to evade responsibility for what happened on February 8 by shifting focus of debates on unrelated issues, including on the previous authorities' alleged misdeeds of the past, MP Davitashvili shouted at him saying that he was almost "killed" by the previous authorities and he would speak about it. Davitashvili was beaten on November, 2007 when police forces broke up anti-government protests. When Ratiani asked him what difference did those past events make today in respect of a specific issue debated now, Davitashvili responded: "What are you talking about? What difference does it make that you were killing me? Next time when you [referring to UNM lawmakers] gather I will come and break your faces and then I'll go into the jail."
"You behave very badly, you have no arguments and then start shouting," Ratiani responded.
When Davitashvili told Ratiani, "you are scum, murderer and not a man," the latter took glass of water and smashed it onto the table in front of himself. Davitashvili stood up and moved towards Ratiani as the latter was telling him to move back; after Davitashvili approached Ratiani the two brawled for couple of seconds before several people, including TV staff, rush into the studio to separate the two men; the program was taken off the air at that point.