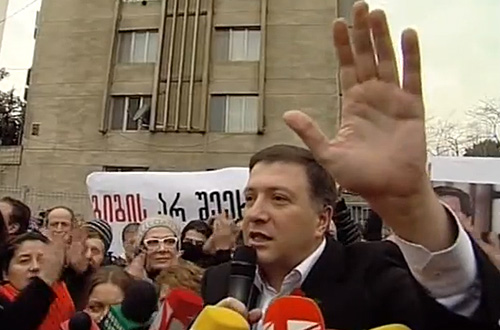 A grab from a footage showing Tbilisi mayor, Gigi Ugulava, speaks with supporters on February 23 outside Finance Ministry's Investigations Service after he was formally charged following a meeting with investigators during which he exercised his right to silence.
Court has declined prosecutors' request asking for suspending from office Tbilisi mayor Gigi Ugulava, who is facing charged related to money laundering, as well as misspending and embezzling of large amount of public funds.
The court said reasons cited by prosecutors behind their motion seeking suspending Ugulava, who was elected as capital city's mayor in 2010 local elections, from the office were "superficial and groundless." The Tbilisi City Court made this decision without an oral hearing of the motion.
Also on February 25 the same court held a hearing into other motions in which prosecutors were seeking GEL 1 million bail for Ugulava and banning him from leaving the country.
These two requests by the prosecutors have also been rejected by the court.
A preliminary hearing on the merits of the criminal case against Ugulava has been set in the Tbilisi City Court for April 10.
During a hearing on prosecutors' motion on GEL 1 million bail earlier on February 25, Ugulava told the judge that charges against him were politically motivated.
"I do not consider myself guilty of these charges," said Ugulava, who was sitting next to his lawyer in a courtroom packed by his supporters and journalists.
"Demand to impose GEL 1 million bail represents kind of a desire [of prosecutors] to win a jackpot," Ugulava told the judge. "I can't pay it, because I don't have it."
On prosecutors' request to impose travel ban on him, Ugulava said that such a ban would have thwarted his planned visit to Azerbaijan where he's due to travel in few days as a member of a Georgian delegation, led by President Saakashvili.
Announcement by the judge, declining prosecutors' motion on bail and travel ban, was met with applause from Ugulava's supporters in the courtroom. Ugulava said that court's decision was "logical".
Criminal charges into two separate cases were filed against Ugulava without being arrested on February 23.
Finance Ministry's Investigations Service, which is in charge of probing into financial and economic criminal offenses, says that the one case is related to "a criminal scheme of seizure of Imedi TV" in late 2008, which is also related to the case of Tbilisi municipality's Rike deal.
Another case is related to alleged misspending of more than GEL 4 million of public funds by creating hundreds of fictitious job positions in a municipal service through which funds were channeled to pay salaries of UNM party activists, according to Finance Ministry's Investigations Service.
In connection to the case of alleged fictitious jobs, Ugulava has been charged with second and third parts of article 182 of the criminal code, involving "misspending or embezzlement" of large amount of state funds by an official, carrying prison term from seven to eleven years.

In connection to "Imedi TV/Rike deal" case, Ugulava has been charged with the same parts of the article 182 of the criminal code, plus third part of article 194 of the same code, involving legalization of especially large amount of illicit income, carrying prison term from nine to twelve years.
Ugulava denies charges as "absurd" and claims that criminal proceedings against him aim at forcing him out of office, which, he says, is part of Georgian Dream coalition's efforts to take over Tbilisi municipality, now controlled by the UNM party.
In respect of Imedi TV/Rike deal case, investigators claim that in 2008, when Imedi TV's controlling shares were owned by Joseph Kay, a distant relative of late tycoon Badri Patarkatsishvili, founder of this TV station, "then defense minister Davit Kezerashvili met Kay and through direct threats convinced him to relinquish [his ownership] of the Imedi TV on the condition that Gigi Ugulava would have reimbursed USD 10 million", which Kay had spent on TV channel's operations in the course of 2008.
The Investigations Service claims that Ugulava schemed Rike deal for the purpose of obtaining USD 10 million state funds to then funnel these funds covertly to Joseph Kay's company.
The Investigations Service launched probe into sale and then buying back of over four hectare plot of land, known as Rike, in downtown Tbilisi, by the capital city's municipality in December 2012.
Tbilisi city municipality sold 43,350 square meters plot of land on Rike for USD 7 million to a private company New Rike in 2006; in late 2008 the Tbilisi municipality bought back from the same company the same plot of land for USD 17 million.
The Investigations Service said on February 22, that in late 2008 Tbilisi mayor Gigi Ugulava made a deal with owners of New Rike company on buying back plot of land on Rike for USD 17 million, but New Rike should have transferred funds to a company controlled by Joseph Kay. After selling plot of land on Rike to the municipality, New Rike transferred USD 8.81 million to Kay's company, the Investigations Service said, adding that the deal represented seizure of Imedi TV through "misappropriation of state funds and money laundering" scheme.
About two weeks after the October 1, 2012 parliamentary elections Imedi TV, which was run by President Saakashvili's long-time ally and former government member Giorgi Arveladze, was transferred in ownership to late tycoon Badri Patarkatsishvili's family. The television station is now wholly owned by widow of Patarkatsishvili, Ina Gudavadze.

Another case over which Ugulava has been charged is related to allegations by the Investigations Service that total of 764 people were fictitiously employed in Tbilisi municipality's waste management service, receiving salaries, total of GEL 4.13 million, from capital city's budget, but in fact performing various activists for UNM party.
"Investigators accuse us of employing people. Yes, we have employed them and I think there is no crime in it," Ugulava said on February 22, adding that the truth would be revealed during court proceedings where hundreds of witnesses, who have testified before investigators into this case, will have the opportunity to testify "freely" before the court.
In late January when it was announced that the authorities were probing into alleged fictitious jobs Tbilisi municipal service, Ugulava said that more than 700 people were really employed in late 2009 and 2010. Ugulava said that these people were hired in order to communicate with Tbilisites need for removing garbage containers from inside the residential apartments outside the apartment buildings, which was done at the time for sanitary reasons.
"Yes these people were working and they had specific assignment. During that period a very painful process [of relocating garbage containers] was ongoing. This issue required communication [with Tbilisi residents]; it required lots of people who were going door-by-door, explaining [to Tbilisites] the need for this measure; these people were hired for this specific purpose," Ugulava said.