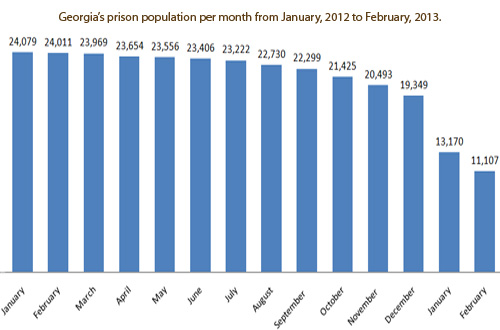 Georgia's prison population per month from January, 2012 to February, 2013. Source: Geostat and ministry for penitentiary system.
Prison population in Georgia more than halved from last January's 24,079 to 11,107 inmates in late February 2013, mainly due to a broad amnesty, which went into effect last month.
Total of 7,985 persons were released from jails as of February 27 as a result of the amnesty, which the Parliament passed in December and which was enforced in mid-January after the legislative body overturned presidential veto.
As of February 27 there were 11,107 inmates in prisons, according to the ministry for the penitentiary system; the figure is likely to further go down as the process of releasing inmates as a result of the amnesty act is still ongoing.

Georgia's prison population per year between 2001-2011. Source: Georgian state statistics office Geostat
Georgia's prison population, which before late last year was one of the highest in terms of per capita in the world, started to slowly decline from early 2012; the downward trend accelerated by the end of 2012 and there was a sharp decline after the amnesty bill was enacted this January.