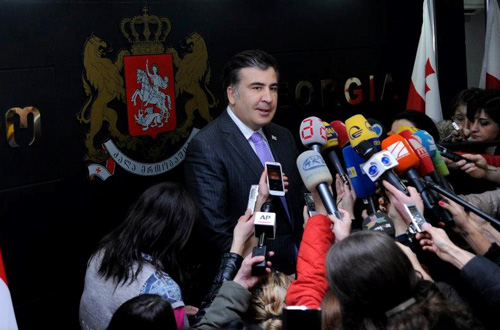 President Saakashvili speaks with journalists after meeting with PM Ivanishvili on March 4. Photo: President's press office.
President Saakashvili said after meeting PM Ivanishvili that talks, which, he said, were "full of emotions", were "interesting" and despite of fundamental disagreements, provided a good opportunity for exchange of views on some of the most pressing issues.
Unlike their first meeting after the parliamentary elections in October, President Saakashvili and PM Ivanishvili appeared before the press separately after the meeting, which lasted for about an hour and a half. President Saakashvili was the first to speak with journalists and the PM made his comments few minutes later.
"Of course we could not have agreed on everything today, because our visions on many issues are different… but I think we both have agreed that we are all the children of Georgia and that we should take care of Georgia, that Georgian people need calmness, stability and guarantees for long-term development. We agree that none of the side wants any complications," Saakashvili said.
He said that the talks on power-sharing arrangement, which were ongoing between his UNM party and Georgian Dream coalition, had almost produced final agreement, including on constitutional issues, but "there are some issues on which work should continue and our teams should now sit down and continue working."
Asked whether there was any progress on the constitutional issues and scope of amnesty for the officials – the latter issue became the major stumbling block that prevented a final agreement in talks between UNM and Georgian Dream over power-sharing arrangement – Saakashvili responded by reiterating his earlier remarks on the issue that the term amnesty in itself "is unacceptable and incomprehensible" for him.
"What does amnesty mean? It means that some people, let's say 25,000 people, committed crime, but I see it otherwise – these 25,000 people built the modern Georgian statehood," Saakashvili said.
In his opening remarks before the press, Saakashvili said that during the meeting he raised several main issues that were source of his concern, involving independence of judiciary and media, as well as the need to stop, what he called politically-motivated "persecution" of UNM activists and officials, including low and mid-level officials, from the previous government.

"First of all, the meeting with Bidzina Ivanishvili is always very interesting," Saakashvili said. "Interesting means that there are fundamental differences in our visions and none of us is hiding it. But it is always nice to have a chance… to have such conversations; it is right to talk about these issues openly to each other, and not through TV cameras and open letters," Saakashvili said.
"As far as concrete issues are concerned, I reiterated to the Prime Minister again how I see the possibilities for cooperation in Georgia. There are several aspects here," he said.
"First of all, I want to tell you that, I as the President now I am in a condition which is unusual for me, because in recent years I have been accustomed to waking up every morning and participating in meetings and discussions with lots of people, opening of new facilities, launching the construction of new facilities, opening universities, schools, roads and so on. You all see that my timetable is now almost empty of such events," Saakashvili continued.
"So for me such inaction is a heavy burden and it would be a lie to say that I feel very comfortable on this [President's] post under current conditions. Therefore, the only reason why I am staying on the presidential post under these conditions, when I actually cannot do many things in these directions, which I have listed, is to maintain democratic space in the country, democratic framework, to create at least a certain opportunity for constitutional stability. Now, I think that it is my key function and my key task."
He then again reiterated that he had no intention whatsoever to use his constitutional right, allowing him to sack the sitting government and appoint new one without Parliament's approval. In December the Georgian Dream parliamentary majority proposed constitutional amendments limiting presidential powers in this regard. It was part of the negotiations between GD and UNM during which agreement was reached on this, as well as on the issues pushed for by UNM, but no final agreement was made possible because of disagreement on scope of amnesty for officials.
"I want to make it clear – any speculation, that I may use the presidential powers and dismiss the Georgian government or dissolve the Parliament, is simply not true, because this government has been elected by the Georgian people. This government had a very short period to be assessed comprehensively either by me or by those people, who have elected it. Thus, any talk that such an intention [of sacking the government] may emerge should be ruled out – here I am, the first-hand source. It is absolutely impossible for me to do it," Saakashvili said.
"Second, we are talking about what should be the topic of constitutional amendments and dialogue. And I think that everyone understands that our interest is to maintain free judiciary in the country," he said.
"Georgian citizens need judiciary, which is free of dictate. This judiciary cannot naturally be under my dictate because I do not have such levers anymore and I think we all understand it. It should not either be under the dictate of prosecutor's office or any governmental agency."

"The second, pressure of any kind on media should be stopped," Saakashvili said and added that "various processes are ongoing on public television" – he was referring to sacking head of the public TV's newsroom Khatuna Berdzenisvhili by the broadcaster's general director Giorgi Baratashvili. Former head of public TV's newsroom has claimed that she was sacked because of not yielding to a pressure of broadcaster's general director to provide news coverage favorable for the government.
Saakashvili said that "a deliberate campaign to impose political control over media is ongoing." He said that there might be various types of media in the country and "the most important is to achieve pluralism and avoid any temptation to control entire media because in this case our fellow citizens will not have an opportunity to listen to alternative opinions."
Saakashvili said that the third issue, which he raised during the meeting was the need to stop, what he called "persecution of tens of thousands of our citizens only because they are members" of his UNM party.
He said that work would continue on the constitutional issues and added that there were no issues in this regard impossible to agree on.
"I hope that we will overcome obstacles," he said and stressed that there were "broader" issues than just constitutional one that required immediate tackling.
"As usually, the meeting was full of emotions," Saakashvili said, "but on the other hand, such meetings have no alternative."