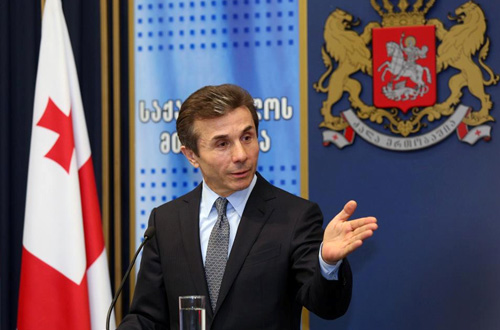 PM Ivanishvili speaks with journalists after meeting with President Saakashvili on March 4. Photo: PM's press office.
PM Ivanishvili said after talks with President Saakashvili on March 4, that the meeting failed to produce any progress and described it as "a meeting for the sake of meeting."
Unlike their first meeting after the parliamentary elections in October, President Saakashvili and PM Ivanishvili appeared before the press separately after the meeting, which lasted for about an hour and a half. President Saakashvili was the first to speak with journalists and the PM made his comments few minutes later.
"Did the president speak with you? Did you understand what we have reached?" the PM asked journalists and after receiving a response from the press representatives that they wanted to learn it from him, Ivanishvili responded smiling: "I don't know it either."
"I think it was the meeting for the sake of a meeting. I reminded Saakashvili for several times that the meeting was held upon his initiative and asked him to articulate what he wanted to say. After several such reminders – I was counting on fingers and I counted three such reminders – I made a conclusion that his first request was that I should set media free from any kind of pressure," Ivanishvili said.
"Then he told me that I should set the judiciary free from pressure," Ivanishvili said. "I could not understand his third point – for some time I was trying to understand it and eventually it turned out to be a call for stopping 'mass persecution of people'," the PM said.
Ivanishvili said sarcastically that it was kind of 'the pot calling the kettle black' conversation and suggested that during the talks Saakashvili was accusing him of the very same wrongdoings that the President himself was committing while his UNM party was in power. Ivanishvili also said that during the meeting he tried for several times to get the President back on topic.
"I reminded him several interesting issues, for example my letter… to which he failed so far to publicly answer," Ivanishvili said referring to his February 26 open letter to the President in which he was asking him to state whether he supported or not proposed constitutional amendment offering to limit presidential power to sack sitting government and appoint new one without Parliament's approval.
"He [Saakashvili] gave a very interesting response [during the meeting]: 'What should I say here, it is a usual presidential republic'," Ivanishvili said. "When I asked to specify what does this usual presidential republic mean and whether the President can appoint the government without approval from the Parliament, he responded that he would bring several examples, but he failed to name any country as an example and added that he would make a public statement and name several countries, where the presidents have similar rights."
Ivanishvili said that the constitutional amendments on presidential powers would be put to the vote in the Parliament by the end of March.
"I have a sense that this draft will be passed," Ivanishvili said, whose Georgian Dream coalition holds majority in the parliament, but falls short of 100 seats required for approval of constitutional amendments.
Ivanishvili said that even if it's not passed, it would not cause any major negative political consequences.
President Saakashvili said for multiple times that he would not use his power to sack the government and appoint new one without Parliament's approval.
"Instead of declaring publicly whether he deems [such constitutional clause] to be normal or not, he is saying that he will not make use of it," Ivanishvili said and suggested that such an approach was not serious.
Ivanishvili said that during the meeting he asked Saakashvili "not to remain in a virtual world in which has been over past nine years."
"My desire genuinely is that they [referring to UNM party] manage to stay worthy members of our society; that was the only reason for me to meet [the President]. And if there is any need for a meeting in the future, I will always be ready for the meeting; but it would be better if there are no such meeting like it was today, which was just for the sake of holding a meeting," Ivanishvili said.
"I will be ready for meeting because I have a great desire to make it possible for the members of the National Movement to remain worthy members of Georgia, although some of them might have violated the law and they will have to answer before the law. It does not mean that they should leave and be expelled from our society," Ivanishvili said and added that "there should not be endless trials and endless prosecutions" and punishment for past alleged wrongdoings by officials from the previous government should be "minimal".
Ivanishvili accused Saakashvili of inconsistency in talks between Georgian Dream and UNM over power-sharing agreement, which also involved constitutional amendments on presidential powers. Ivanishvili said that when the agreement on constitutional issues was achieved, the UNM pushed the issue of amnesty for officials, but now Saakashvili was saying that even the term amnesty was unacceptable for him.
Asked whether there was any progress on the constitutional issues and scope of amnesty for the officials – the latter issue became the major stumbling block that prevented a final agreement in talks between UNM and Georgian Dream – Saakashvili responded after meeting with Ivanishvili that the term amnesty in itself "is unacceptable and incomprehensible" for him. "What does amnesty mean? It means that some people, let's say 25,000 people, committed crime, but I see it otherwise – these 25,000 people built the modern Georgian statehood," Saakashvili said and added that the new government should stop, what he called, politically-motivated "persecutions".
Ivanishvili said that during the meeting he called on the President to stop making statements and decisions that "harm our foreign policy" and "our relations with neighbors". Ivanishvili said that Saakashvili's decision to grant Georgian citizenship to a person wanted in Ukraine, as well as his remarks on alleged threat facing to Azerbaijan and Georgia and statement "insulting" delegation of Russia's consumer safety watchdog agency, which was visiting Georgia last week, were "reckless" and "incomprehensible". Ivanishvili said that with these remarks and decisions Saakashvili "did disservice to his own homeland" and offered him to "apologize before these countries". "If he does not, I am going to do that," Ivanishvili said.
Ivanishvili also said that "although some want it, there will be no turmoil in the country." "No one will be able to move confrontation into the streets and staging unrests," the Prime Minister said.