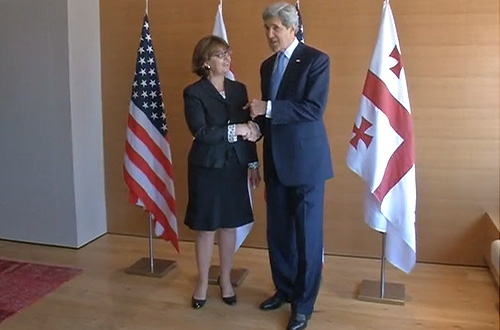 Georgian Foreign Minister Maia Panjikidze and U.S. Secretary of State John Kerry, Brussels, April 24. Photo: screengrab from video footage.
Georgian Foreign Minister, Maia Panjikidze, met U.S. Secretary of State, John Kerry, in Brussels on April 24.
"We have discussed all the issues related to bilateral U.S.-Georgian relations," Panjikidze said after the meeting. "He [Secretary Kerry] stressed on the U.S. support to Georgia's territorial integrity and Georgia's European and Euro-Atlantic integration. He expressed gratitude for Georgia's contribution to the Afghan mission and global security. He showed interest in current developments in Georgia, as well as in the process of Georgia's European and Euro-Atlantic integration and gave high appraisal to it."
"I have invited Mr. Kerry to visit Georgia and he promised that he will," she added.
Georgia's new ambassador to the U.S. Archil Gegeshidze, who attended the meeting, said that, apart of bilateral relations, among the topics raised during the meeting were Georgia's relations with Russia, Geneva talks, as well as internal situation in Georgia.