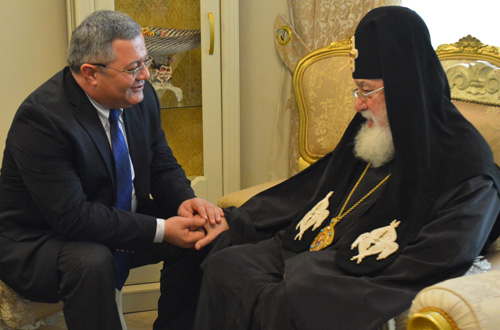 Parliamentary Chairman Davit Usupashvili and Head of the Georgian Orthodox Church, Patriarch Ilia II, at a meeting on May 10 during opening of the newly built monastery complex in Khobi, western Georgian region of Samegrelo. Photo: parliament press office
Parliamentary Chairman, Davit Usupashvili, denounced a statement issued by the head of the influential Georgian Orthodox Church, Patriarch Ilia II, on the eve of attempted anti-homophobia rally calling on the authorities to ban it, and suggested that this statement served as an encouragement to thousands of counter-demonstrators to act against the gay rights rally.
"To say the truth I was little bit astonished when I saw this statement [by the Patriarch], made on the eve of [anti-homophobia rally]," Usupashvili told Channel 9 TV's talk show on May 20.
In the written statement on May 16 the head of the Georgian Orthodox Church called on the authorities not to allow gay rights activists to gather on May 17 to mark the International Day Against Homophobia. The Patriarch, who described homosexuality as "anomaly and disease", said that holding of such rally would be "a violation of majority's right" and "an insult" to the Georgian traditions.
Asked about this statement, Usupashvili said that making such appeal on the eve of the anti-homophobia rally, which was announced well in advance of May 17 and in the condition that there was no way whatsoever for the authorities to ban the rally as it would have been against the constitution, contributed to the events that unfolded on May 17.
"I do not think that this statement contributed positively in respect of that specific day, because it was in itself already clear at the time [of making the statement] that the authorities could not have banned [the rally], demonstrators who were planning [anti-homophobia] rally would not have dropped their plans and for those people who were watching this rally with suspicion or aggressively this statement, to some extent, served as advice, indication, which empowered their position that 'if the state does not ban [gay rights rally] then we will do it'," Usupashvili said.
He said for couple of times during the TV talk show that voicing criticism or commenting and analyzing an opinion, including the one of the Patriarch, especially when such opinion was about secular life was "a right thing to do."
"We should agree that when an opinion is expressed on such state-related issues… even if this opinion belongs to His Holiness, judging and analyzing it, agreeing or disagreeing with it is our constitutional right and our constitutional obligation; what is happening in the Church's life it's not our business, but when there is a talk about issues of secular life such as where citizens should walk or not, where they can rally or not, in such situations we should agree that voicing critical position or disagreeing and analyzing is right thing to do and it's necessary and everyone should get used to it, including representatives of the Church," Usupashvili said.
Asked if he was "realizing" that making such remarks about the Georgian Orthodox Church and its head would probably impact negatively on his political rating, Usupashvili responded: "Politician should first and foremost realize that sooner or later he will lose elections; I do not know whether this 'sooner or later' will be the next elections or elections after that… We should agree that nothing is eternal."
"The society should agree that if the politicians will at first listen to what the people want and then start voicing it, we'd better go from politics… Politicians should listen to the people, but people want politicians and government for taking decisions when it comes to such critical issues," the parliament speaker said.
PM Bidzina Ivanishvili also put himself publicly at odds with the Georgian Church, when he said on April 10 that "problems exist" in the Georgian Orthodox Church too and speaking publicly on these issues should not be a taboo.
Asked what he would tell to those thousands of people, who were protesting against attempted gay rights rally, Usupashvili said: "We should get used to such simple facts that there are people with different views, different behavior and different taste and there are people who are simply different from us."
"Do I like homosexuality? No I don't; do I want majority of population to be homosexuals in Georgia? No, I don't… But saying that it is a crime and disaster for the country if these people rally together somewhere will have counter-effect," Usupashvili said and added that the counter-demonstrators' argument that anti-homophobia rally was "a propaganda" of homosexuality was inappropriate and actions of counter-demonstrators actually gave more publicity to the attempted gay rights rally.