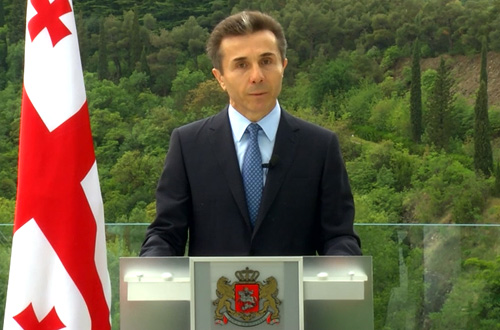 Screengrab from PM Ivanishvili's televised address on Independence Day, May 26.
In his Independence Day speech on May 26, PM Ivanishvili said that democracy, human rights, EU and NATO membership and "de-occupation" of the breakaway regions "are inseparable parts of Georgia's independence idea."
He said in the televised address that "democracy, European way of life - that's what was chosen by our ancestors" in 1918 when declaring Georgia's independence, "but our country was soon punished by the [Bolshevik's] Red Army [in 1921] for this choice."
"We should learn to live in democracy and freedom," he said. "We are the country of huge traditions, but we almost have no experience of living in democracy. We should all learn it - both the authorities and the people."
"Democratic values, human rights, EU and NATO membership, mending ties with neighboring countries, de-occupation, establishment rule of law, free judiciary and free media - these are the issues, which are inseparable parts of Georgia's independence idea, these are the main challenges we are facing."
"The state, law and judiciary should restore the justice, otherwise injustice will breed new injustice, violence will beget new violence and rivalry and retributions will never end in the country," PM Ivanishvili said.
He said everyone had its share of responsibility in overcoming these challenges.
"The authorities have a huge burden - they should lead our country's development in the right direction. Participation of each citizen in this process is very important. We, the representatives of the government, believe in your abilities. We pin a huge hope on your support. We are sure, that you will help us in going down this difficult road without making any substantial mistakes," he said.
"I promise that we will stand against illegality," Ivanishvili continued. "At last everyone in our country will be equal before the law regardless of ethnicity, religion and sexual orientation."
"I promise that no one will be punished for being different, for free opinion and speech," he said.
"We are devoted to our traditions, custom, but accepting and creating new is also part of our tradition. We should be dignified not only in being dedicated to our traditions, but also in respecting others' traditions and custom."
"We should always be critical towards xenophobic and homophobic views locked up in pseudo traditionalism, as well as towards thoughtlessly imitating everything that is foreign and new," Ivanishvili said.
On the breakaway regions he said that Georgia should become "stable and economically attractive country" and it should spare no efforts in order to win hearts and minds of "Abkhaz and Ossetian brothers." "We should together build our joint state, which will be the homeland for everyone," he said.
In his speech Ivanishvili also mentioned Georgian soldiers deployed in Afghanistan and said that their "sacrifice and heroism" served to the protection of the Georgian statehood.
Georgia's Independence Day is marked on Sunday with various festivities and events in the capital Tbilisi and in over two dozen of other towns across the country.
No military parade was held, but various military equipment, including armored vehicles and battle tanks were deployed on public display in downtown Tbilisi and other parts of the city, as well as in number of other towns.